Petit Trial: Defense Reveals Joshua Komisarjesky Suffered From Child Abuse & Drug Problems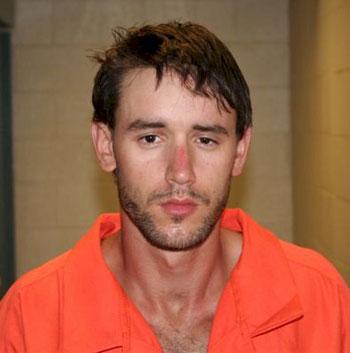 With the prosecution in the Petit family murder trial resting their case on Monday, it was the turn of the defense team for Joshua Komisarjesky to take the stand in the New Haven, Connecticut court room on Wednesday, RadarOnline.com can report.
In a desperate bid to prevent the accused triple murderer from joining his accomplice on death row, Komisarjesky's attorneys first focused their attention on his sidekick, Steven Hayes, and his behavior in the days and weeks before the 2007 killings of Jennifer Hawke-Petit and her daughters, Hayley, 17, and Michaela,11, reported the Hartford Courant.
Article continues below advertisement
Despite the defendant's chilling confession earlier in the trial that detailed how he beat Dr. William Petit, the sole survivor in the horrific attack, on the head with a baseball bat and then sexually assaulted his 11-year-old daughter while she was tied to a bed, his attorneys are arguing that their client only intended to break in and steal the family's belongings, not to kill them.
In the defense opening statements, Hayes, however, was portrayed as a career criminal desperate for money who feared going back to prison.
State police officer Detective Francis Budwitz testified that Hayes' mother, Diana, told him in an interview after the murders that her son had been living at her house, sleeping on her couch and stashing his things in her linen closet. His belongings included a collection of women's sneakers, which he had a fetish for, with writing on them.
Now 48 and awaiting execution, Hayes was on parole at the time and would often borrowed his mom's car and disappear with it on weekends.
Article continues below advertisement
Diana Hayes was so worried about his behavior that she told a parole officer just days before the July 23, 2007 killings that she and her son were not "getting along" and she feared "what he was up to," and wanted him out of the house.
During Hayes' trial last year, his attorneys took a similar angle, claiming that it was Komisarjesky who was the mastermind behind the home invasion gone wrong by into entering evidence journals that the 31-year-old wrote detailing his work as a serial burglar and commentary of what had happened that fateful night.
Later in Wednesday's proceedings, the court heard a very different image of the cold-hearted killer than the prosecution had portrayed that involved details on a series of concussions, a history of sexual abuse and extensive abuse of crystal methamphetamine and marijuana
Dr. Leo Shea testified that the combination of traumatic experiences - including suffering five concussions between the age of 9 and 17 through sports and a car crash - created the "perfect storm" in Komisarjesky's life and that it adversely affected his cognitive behavior.
Article continues below advertisement
The evidence took a graphic turn when the New York University neuropsychologist explained how Komisarjevsky was anally and orally raped between the ages of 4 and 6 and that he had been tortured by being burned.
All of those experiences could have affected certain parts of Komisarjevsky's brain, Dr. Shea said, leading to irritability, an inability to make decisions, problems socially and the lack of ability to think of the needs of other people.