Dr. Petit Walks Out Of Court As Daughter's Death is Described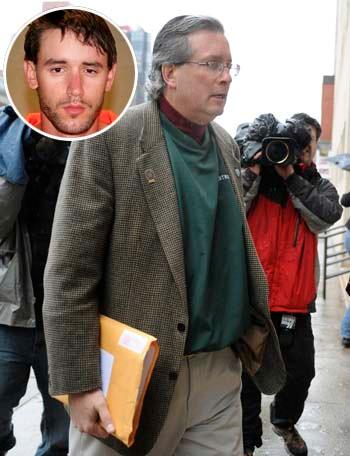 The death penalty trial of murder suspect Joshua Komisarjevsky continued on Monday as horrific details emerged of the final moments of victim Hayley Petit that were so gruesome her father had to leave the courtroom.
Dr. William Petit, the sole survivor of the 2007 Connecticut home invasion, was overcome with emotion as jurors heard how 17-year Hayley's body was found at the top of the family's stairs after struggling to free herself from the ropes that bound her wrists to her bed, reported ABCNews.com.
Article continues below advertisement
According to the associate state medical examiner who performed the autopsy, the cause of the teenager's death was smoke inhalation and carbon monoxide poisoning, which would have taken several minutes to kill her, explained Dr. Malka Shah.
Burnt remnants of rope remained tied around the girl's right wrist and ankles and the remainder of her clothes smelled of gas, reported the Hartford Courant.
Despite Hayley's body being burned all over and her having soot in her mouth, the 27-year veteran of the medical examiner's office couldn't determine whether the burns occurred pre- or post-mortem.
As , Komisarjevsky - the second suspect in the most horrific murder in Connecticut history - is charged with 17 counts including murder, abduction and assault in the triple homicide of a mother and her two children, and the beating of their father.
The grisly case revolves around the seven-hour abduction of Dr. Petit, his wife Jennifer Hawke-Petit and their daughters Hayley, 17, and Michaela, 11, who were held hostage in their Cheshire home on July 22, 2007
Article continues below advertisement
Rather than a quick death, Shah testified that Hayley would most likely have clung to life for "a few to several minutes" and experienced "significant pain from breathing in smoke and soot before she died."
She also likely felt disorientation, nausea and an inability to breathe shortly before her death, he added.
Given the third and even fourth degree burns to her feet, Shah said it is likely that the flames got very close to the young girl on or about the time that she died although she could not say if she felt pain from the fire, reported ABCNews.com.
The gory details and graphic photographs of his oldest daughter's death became too much for Dr Petit, who left the courtroom during the testimony, along with other family members who were moved to tears.
The emotional impact of the gruesome evidence was amplified by the fact that had she survived, Hayley's mother, Jennifer, would have turned 53 on Monday. Instead she was raped and strangled on that fateful day before the house was set alight.
Article continues below advertisement
On Thursday, jurors and family members heard the 31-year-old triple-murder defendant's taped confession from July 23, 2007, where he gave horrific details of the sexual assault endured by 11-year-old Michaela before she was killed, including how the youngest Petit daughter's clothes were cut off with scissors before the defendant ejaculated on her stomach and took photos of her on his cell phone.
Along with images of Hayley's death, the New Haven, Connecticut court saw video surveillance footage on Monday of Jennifer and Michaela at the Cheshire Stop 'N' Shop, where Komisarjevsky said he first spotted the mother-daughter duo shopping for their final meal and decided to follow them home.