Troy Davis Executed In Georgia At 11:08 PM Wednesday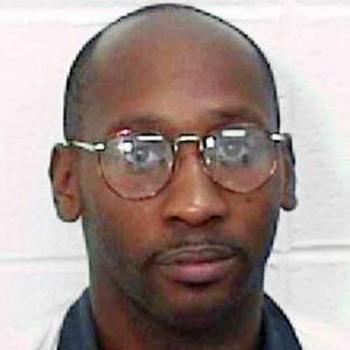 Despite a last ditch plea for clemency and a huge rally to grant a stay of execution, Troy Davis was put to death at 11:08 p.m. Eastern time on Wednesday September 21, RadarOnline.com can report.
The convicted murderer, who maintained his innocence to the end, was executed by lethal injection, Kristen Stancil, a spokeswoman for the prison where Davis died, confirmed.
As RadarOnline.com previously reported, Davis was sentenced to death for the 1989 murder of Savannah police officer Mark MacPhail, who was gunned down while rushing to the aid of a homeless man in a Burger King parking lot.
Article continues below advertisement
The execution occurred after the Supreme Court announced late Wednesday it was denying a last-ditch request to spare Davis' life.
"The application for stay of execution of sentence of death presented to Justice (Clarence) Thomas and by him referred to the Court is denied," read the order released to the news media at 10:18 p.m. ET.
Benjamin Jealous, President of the NAACP, who had been lobbying state and federal officials to study what he felt was reasonable doubt in the case, sent out updates via Twitter late Wednesday condemning the decision.
"In death, Troy Davis will live on as a reminder of a broken justice system that kills an innocent man while a murderer walks free," Jealous wrote. "The pillar of strength that Troy has been is a testament to his faith and understanding that this movement will continue with more force."
Human rights group, Amnesty International, released a statement condemning the execution: "Today, Georgia didn't just kill Troy Davis, they killed the faith and confidence that many Georgians, Americans and Troy Davis supporters worldwide used to have in our criminal justice system."
Article continues below advertisement
Davis maintained his innocence till the end. "I'd like to address the MacPhail family. Let you know, despite the situation you are in, I'm not the one who personally killed your son, your father, your brother. I am innocent," he said in his final words before being executed.
"The incident that happened that night is not my fault. I did not have a gun. All I can ask ... is that you look deeper into this case so that you really can finally see the truth.
"I ask my family and friends to continue to fight this fight. For those about to take my life, God have mercy on your souls. And may God bless your souls."
Davis' legal team had argued that there was "abundant evidence" that another man committed the murder and claimed that they had sworn statements from three jurors who sentenced Davis to death at his 1991 trial, but who now expressed doubt with their verdicts and were asking that Davis be spared the death penalty.
MORE ON:
Celebrity Justice
Article continues below advertisement
Davis' attorneys noted that seven of the prosecution's nine witness had either recanted or backed off their original testimony. More witnesses had come forward to say in sworn statements that another man, Sylvester "Redd" Coles, told them he was the one who pulled the trigger in the murder of MacPhail. Coles was at the scene of the crime with Davis.
Within an hour of Davis' execution at last night, his sister Kim wrote a heartfelt thanks to Change.org for supporting him and revealed some of his final words before his death, RadarOnline.com has learned.
"When Troy saw that more than 250,000 Change.org members signed a petition that was delivered to the board in his name, he called to tell me he was deeply moved. He told me he knew that he had supporters around the world, but he had no idea that the support was that widespread."
Kim has said that she'll keep fighting, for the next Troy Davis and the one after that. And she knows so many others will join her in this fight.
Article continues below advertisement
As RadarOnline.com previously reported, Davis' sister spearheaded a campaign to save her brother by launching an online petition two weeks days ago at Change.org to appeal to the Georgia Board of Pardons and Paroles.
Change.org aims to bring public attention to a wide variety of topics including animal rights, economic justice and human trafficking by providing a platform to build and promote online petitions.