Exclusive
Inside Death Row Convict Troy Davis' Final Moments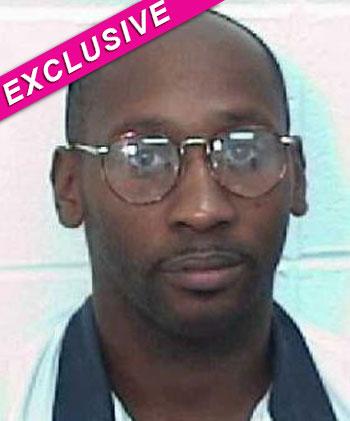 The clock is ticking on what could be Troy Davis' final day alive, and RadarOnline.com has an exclusive insight into his life on death row.
Despite an outpouring of support to have the death penalty judgement repealed, the convicted killer, who maintains his innocence, is scheduled to be executed at 7 p.m. EST on Wednesday.
"He's got no possessions right now, they took away his address book - everything. They even took away part of his pen so that it can't cause him harm, so now he writes with just the barrel," a friend of Davis' told RadarOnline.com in an exclusive interview.
Article continues below advertisement
"It is really intense conditions," she explained. "He's been on suicide watch because of the execution, but that is mandated not because of his state of mind."
A volunteer member of Amnesty International, the friend has been writing to Davis for the past five years of his incarceration and is a strong supporter of his case.
"The last letter I got from him was two days ago after we heard the appeal for clemency had been rejected, it was dated September 17," the friend explained, going on to say that she has been passing the most recent correspondence to Davis through a friend due to concern that his mail is being read by the prison staff.
"His mail is being censored now and I've been trying to be mindful of that."
As RadarOnline.com previously reported, the Georgia Board of Pardons and Paroles denied a last-minute plea for clemency from Davis, who claims he is innocent in the August 1989 death of Savannah police officer Mark MacPhail, who was gunned down while rushing to the aid of a homeless man in a Burger King parking lot.
The 42-year-old Savannah, Georgia, native was sentenced to death in 1991 and Wednesday marked his fourth scheduled execution date in four years.
Article continues below advertisement
Due to the high profile nature of his case, Davis gets thousands of letters a day from well-wishers and his support team send out cards with bible readings that he signs for them.
Despite his impending execution, his pen pal said Davis is strong-spirited and tries to think of the greater good.
"He's not just thinking of his individual life but as a larger struggle. Whatever happens, he is with God," she said.
MORE ON:
Celebrity Justice
During his 11 year prison sentence, Davis has lost his father and most recently his mother, and his sister, Martina, suffers from terminal cancer.
"He has been grieving and mourning about his mother and can't even hug his family," explained the friend, who went on to explain why this case has touched the hearts of so many.
"Troy's case speaks to a lot of people about our hunger for human rights. When the legal system makes a decision that is so obviously faulty about race and class injustices it resonates with people because we have a conscience. We have an obligation to stand up and challenge that system.
Article continues below advertisement
"It's partly because of the power of social media and the way it has been elevated, but that would not have happened if it didn't reach theses core issues."
Davis himself was allowed to pen a personal message to all those who have been appealing on his behalf, in which he emphasized: "This is not just about Troy Davis, this is a case about Justice and the Human Spirit to see Justice prevail."
Despite the looming deadline, the friend said it is not too late for the public to help.
Supporters can contact Chatham County District Attorney Larry Chisolm and request him to grant clemency via Amnesty International's Take Action website or directly by calling 912-652-7308 or faxing 912-652-7328.
Or they can contact Judge Fresemann, who signed the warrant and has the power to recall it -- he can be contacted at 912-652-7252 or pfreesemann@chathamcounty.org.
Alternatively, they can contact Dr. Carlo Musso, CEO of Rainbow Medical Associates, the organization contracted by the Georgia Department of Corrections to oversee executions, via fax at 770-692-4754, and plead them not to go through with the lethal injection.