Kim Kardashian Tweets Her Support of Death Row Inmate Troy Davis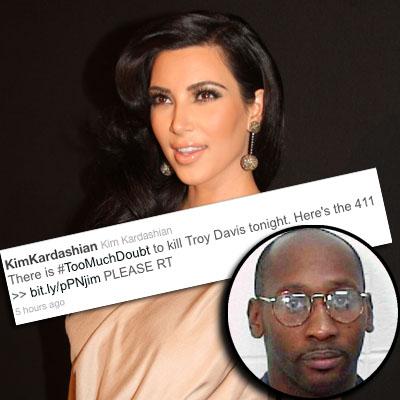 Followers of Kim Kardashian on Twitter are used to her tweeting about her latest fashion line, reality show or inane pop culture obsession, but the reality star's updates took on a serious tone on Wednesday as she passionately pledged her support of death row convict Troy Davis.
"There is #TooMuchDoubt to kill Troy Davis tonight," the newlywed wrote in her latest tweet, advising her fans to visit the website GlobalGrind.com for more information on his case.
Article continues below advertisement
As RadarOnline.com previously reported, the last desperate plea for clemency made on behalf of Davis was turned down on Tuesday, despite having received an outpouring of support from those who believe that he was wrongly accused of killing a police officer in 1989.
The 42-year-old Savannah, Georgia, native is due to be executed on Wednesday at 7 p.m. local time for the shooting of off-duty cop Mark MacPhail, who was gunned down while rushing to the aid of a homeless man in a Burger King parking lot.
Earlier in the morning, Kim expressed how distraught she is over the troubling case, starting by saying, "I want to vent about the execution of Troy Davis! He is getting the death penalty tonight but I believe he is innocent!!!"
She went on to live up to her promised by venting further:
"All he wants is a polygraph test 2 prove he's innocent & the judicial system can't give that to him? Let's make #TroyDavis a trending topic!
Article continues below advertisement
"Everyone google Troy Davis & read his story! NO ONE should die by lethal injection when there is this much doubt! Help save #TroyDavis
The Keeping Up With the Kardashians star isn't the only celebrity who is jumping on the band wagon to support Davis.
Woody Allen's ex-girlfriend Mia Farrow wrote: "Georgia plans to execute #TroyDavis in 7 days even tho 10 witnesses say another man committed the crime http://bit.ly/TroyPetition #TooMuchDoubt."
While, Sean P. Diddy Combs even gave his followers a number to call to help:
"Call! Attorney General Eric Holder at 202-353-1555 urge him to intercede on Troy Davis rt to the world and Call rt now!"
Fashionista Kimora Simmons slammed the court system, writing, "Americas Justice sucks, murderers walk away and innocent people get killed!! SAD! (Save #TroyDavis)."
Rapper Busta Rhymes felt the same way, as he tweeted. "Btwn Troy Davis and Casey Anthony, our judicial system is prob the biggest joke in the world.
Article continues below advertisement
"Turns out DA can't withdraw the death warrant. Only Judge Penny Freesemann can 912-652-7252 Pls RT."
As the clock ticks down on what could be Davis' final day, RadarOnline.com reported that the death row inmate does not want a last meal because he wants to spend his final hours meeting with friends, family and supporters.
His attorney Stephen Marsh said he had asked state prisons officials and the pardons board if they would allow a polygraph test, adding: