Petit Family Murderer Steven Hayes Boasts Of '17 Kills,' Calls Victims 'Adventure Buddies'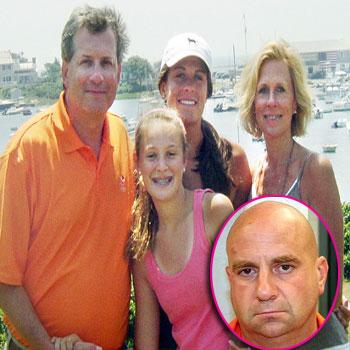 As the death penalty phase of the trial for convicted killer Joshua Komisarjevsky begins on Tuesday, it is his accomplice in the Petit family murders who has made a shocking confession in a series of chilling letters, RadarOnline.com has learned.
Steven Hayes, who was convicted last year for his part in the Cheshire, Connecticut home invasion that spiraled into a triple homicide, is awaiting execution on death row and wrote to a woman from prison claiming he was "sharing a dark secret," reported the New Haven Register.
Article continues below advertisement
The 48-year-old convict described with relish how he had tied up and killed two women and admitted to murdering many more.
"Yes, I've killed before," Hayes boasted. "I have 17 kills throughout the Northeast United States. Perfect victims and well executed, controlled endeavors."
As RadarOnline.com previously reported, Hayes admitted to raping and strangling Jennifer Hawke-Petit during the July 23, 2007 attack. Her daughters, Hayley, 17, and Michaela, 11, were tied to their beds and died of smoke inhalation when the family home was set on fire.
After "ranting and raving about leaving DNA," Hayes told his partner in crime, "'We've got to kill them.' Kill the family and burn the house down,'" Komisarjevsky claimed in his taped confession to police.
In what has been dubbed the "Dear Lynn" letters to his pen pal in Wilson, North Carolina, Hayes takes pleasure in revealing the most graphic details about his obscene past crimes.
The correspondence, which includes three to four letters, was confiscated by Connecticut Department of Correction officials and turned over to prosecutors in the Komisarjevsky trial Oct. 7.
Article continues below advertisement
The defense team moved for a mistrial when they learned of the letters claiming that the new information could prove that Hayes was the instigator of the crimes, but the request was denied.
On October 13, Komisarjevsky was found guilty on all 17 counts of murder, abduction and assault in the triple homicide of the mother and her two children, and the vicious beating of their father, Dr. William Petit and now the same jury in the New Haven court will decide this week if he gets the death penalty.
The new letters penned by Hayes in August and September may be allowed as evidence in the penalty phase, but as the location of the killings are not revealed, Judge Jon C. Blue said it will be hard to corroborate Hayes' claims.
If they are true, "He's one of the great serial killers in modern American history," said Blue.
In a 17-page, handwritten letter obtained by the Register, Hayes said his accomplice Komisarjevsky failed to be a "worthy" partner. "I've searched my whole life for someone who could embrace and had the capacity for evil as I possess," Hayes said. "I thought I finally found it in Josh.
Article continues below advertisement
"But events show Josh, while (he) had the proper evil intent, lacked in the most serious aspects, commitment and control."
He then pledges to share his darkest secret in his next letter if Lynn promises not to reveal it until after he is executed in a couple of years.
"The Petit home invasion was a dry run in the partnership between Josh and myself. I do now realize that had we gotten away, I would have killed Josh. He was not even close to being worthy of my partnership," explained Hayes, saying it was important that someone else should know the truth about what happened that fateful day.
Hayes added, "His sloppiness and lack of control would have been my downfall, was my downfall."
He then goes on to brag about having "17 kills," along with dozens of drug-rape attacks for which he took "trophies from them all," each was "one of a kind and completely specific to each victim."
Beginning with a hitch hiker who he tossed in his trunk and took to a cheap motel, the cold-hearted killer described how he hunted, captured, and then killed by pinching off her air supply.
Article continues below advertisement
After he disposed of the body, "her trophies became mine physically and a monster was born. This carried on with my top 17 sexual conquests and kills. The trophies, the signature kill, the thrill of the hunt and the disposal of my adventure buddies."
Victim number eight went back to Hayes' home to smoke crack with him, but instead of just getting her high he tied her to a bed and held her there all weekend before he ended her life.
"The more pain and emotional abuse she went through, the better I liked it," he said. "And believe me, I was in heaven.
"I got most of it on tape, 16 hours, two CDs. By far the best snuff film ever created," said Hayes, adding that the tape is now in Portland, Oregon, but didn't explain why.
Hayes promised to follow up with more revelations, "of my adventures, hunts and sexual fantasies" but not "who or where they are today," before signing off, "Love, your friend in spirit: Steve."
Article continues below advertisement