Petit Trial Verdict: Joshua Komisarjevsky Guilty Of All Charges, Facing Death Penalty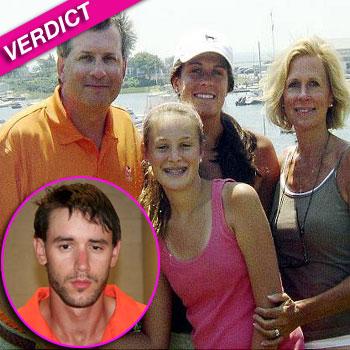 After eight hours of deliberations over two days, the jury found Joshua Komisarjevsky guilty on Thursday of the three grisly murders of Jennifer Hawke-Petit and her daughters Hayley, 17, and Michaela, 11, RadarOnline.com has learned.
The killer was found guilty of all 17 counts of murder, abduction and assault in the triple homicide of a mother and her two children, and the vicious beating of their father, Dr. William Petit, on July 23, 2007.
Article continues below advertisement
The capital felony verdicts mean that 31-year-old Komisarjevsky is eligible for the death penalty, like his accomplice Steven Hayes, who is currently awaiting execution on death row.
He will now face the death penalty phrase, which will begin on October 24, to decide if he is executed by lethal injection or will spend the rest of his life in prison.
As RadarOnline.com previously reported, it took just five hours for a jury to find the bald-headed Hayes guilty when he was on trial last year, after which he told the court that, "death would be a welcome relief."
MORE ON:
Celebrity Justice
Dr. Petit, the sole survivor of the Cheshire, Connecticut home invasion, and his family sat in the court room as the verdict was read.
While Petit took off his glasses and rubbed his eyes and his sister, Hannah Chapman, openly cried, Komisarjevsky simply stood expressionless with his hand clasped behind him even as the guilty counts mounted, reported the Hartford Courtant.
As RadarOnline.com previously reported, since September 19, jurors in the New Haven, Connecticut courtroom heard testimony from over 30 witnesses in the horrific case against the killer, who has watched stony-faced and expressionless throughout.