Dr. Petit Still Has 'A Jagged Hole In His Heart,' After Guilty Verdict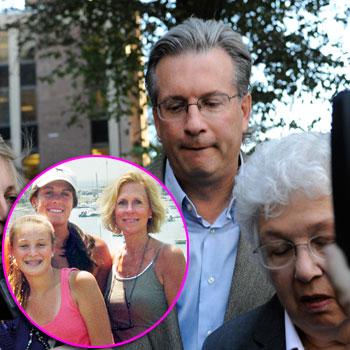 The second killer in Connecticut's most horrific crime was found guilty on all 17 counts against him on Thursday, but for both Dr. William Petit and Joshua Komisarjevsky, the ordeal is far from over, RadarOnline.com has exclusively learned.
As RadarOnline.com previously reported, Komisarjevsky was found guilty of the murder, abduction and assault in the triple homicide of Jennifer Hawke-Petit, Hayely, 17, and Michaela, 11, and the vicious beating of their father on July 23, 2007, and is now eligible for the death penalty.
Article continues below advertisement
Dr. Petit's lawyer, Rick Healey, told RadarOnline.com that his client will not be doing interviews with individual media representatives, "prior to the conclusion of the sentencing phase of this second trial."
The same jury now has to decide whether the triple murderer will spend the rest of his life in jail, or be put on death like his accomplice Steven Hayes, who awaits execution by lethal injection.
The convicted killer's family is similarly not considering the verdict to be the end of the story, his uncle, Christopher Komisarjevsky, told RadarOnline.com that he will be able to talk about the case until the "second phase," which will begin on October 24.
Dr. Petit made a statement outside the courtroom on Thursday, where he revealed how difficult it has been over the past four years since the horrific home invasion, reported the Hartford Courant.
Article continues below advertisement
"I just knew the appropriate thing was to let the law take its course, as exceedingly slow and excruciatingly painful as it was, and there was nothing I could do to make that any better by looking like an enraged or crazed father," grieving widower said.
Earlier in the news conference Dr. Petit revealed: "It's not clear to me that time heals all wounds but you form some sort of scars...there's a jagged hole in your heart but you smooth out the edges a little bit."
Although the Petit family were openly emotional when the verdict was read, Komisarjevsky, 31, simply looked unmoved as his fate was decided.
Wearing a dark suit with clean-cut hair, he kept his eyes down and showed no expression but seemed to drop his head lower each time the jury forewoman pronounced him guilty, reported the Courant. The convicted killer then appeared dazed and even yawned as he left the courtroom.
Article continues below advertisement
Despite six of the 17 counts being capital felonies, defense attorney Jeremiah Donovan said that Komisarjevsky's legal team planned to "redouble" its efforts in the penalty phase.
"We have confidence in the jury system, and we look forward to presenting mitigating evidence that we no doubt think the jury will view with reasonableness, compassion and mercy," said fellow defense lawyer, Walter C. Bansley III.