Exclusive
Petit Family Killer Joshua Komisarjevsky 'Was A Great Dad,' Reveals His Ex-Girlfriend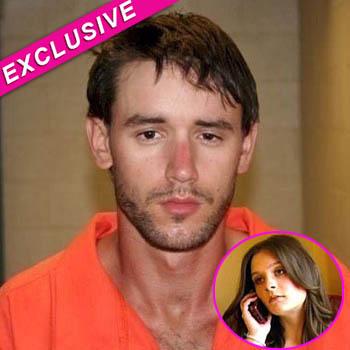 As a judge decides whether convicted triple murderer Joshua Komisarjevsky's nine-year-old daughter should testify in the death penalty phase of his trial, RadarOnline.com can exclusively reveal that he was considered a caring parent right up to the night before the killings.
Caroline Mesel was Komisarjevsky's girlfriend at the time of the July 23, 2007 home invasion in Cheshire, Connecticut and has now exclusively opened up to RadarOnline.com about her experiences dating the single father.
Article continues below advertisement
As RadarOnline.com previously reported, Komisarjevsky was found guilty of 17 counts on October 13 for the grisly murders of Jennifer Hawke-Petit and her daughters, Hayley, 17, and Michaela, 11, and the vicious beating of their father, Dr. William Petit, but the cold-hearted killer had a different side to him.
"His daughter was adorable, he loved her to death. He was a great dad," Mesel told RadarOnline.com in an exclusive interview, as she revealed how 31-year-old Komisarjevsky cared for his then five-year-old daughter.
Joshua was granted sole custody of the girl two months before the murders after being embroiled in a bitter custody battle with her mother, Jennifer Norton, who was being treated at a crisis intervention unit.
At that time, Komisarjevsky introduced his teenage girlfriend to both his daughter and the rest of his extremely religious family.
"I met his sister once or twice, I met his parents," said Mesel, who was even introduced to his criminal accomplice, Steven Hayes.
Article continues below advertisement
"I met Hayes, he was creepy. I don't think even I looked him in the eye because he had a scary face," she told RadarOnline.com.
Despite meeting her boyfriend through her sister while he was in prison for a string of break-ins, Caroline said Josh "seemed normal."
"He seemed happy, he was always very calm," she revealed.
"I knew he'd committed burglaries, but I didn't want to pry into it - sometimes it's better not to know about someone's past. The person could have changed."
The young couple began dating exclusively when serial burglar Komisarjevsky was released from a Connecticut halfway house but were limited on what they could do because of security restrictions.
"We went to the mall a lot, or we'd just drive around and go to my house or his as he had to wear an ankle bracelet," said Mesel.
Just weeks before the Petit murders, Caroline and her family moved from Connecticut to Arkansas when her pastor father got a position at a new church, but she kept talking with Josh every day.
Article continues below advertisement
"I spoke to him the night of July 22, he was weird on the phone and the last thing he said was he was going to put his daughter to bed," Caroline told RadarOnline.com.
"I had a weird feeling all night long, I couldn't get a hold of him, which was odd because he would usually always have his phone on him. I had a bad feeling something had happened."
While Caroline stayed up all night fretting, Josh was hundreds of miles away breaking into the family home with Hayes and violently beating Dr. Petit, molesting Michaela and then setting the house on fire.
She didn't hear from him for the whole of the next day but when she heard the news of the triple murder, "I knew immediately it was him. I have a really good gut feeling, I have a sixth sense."
Caroline's suspicions turned out to be true, and apart from a brief phone call a week later, she has not spoken to her first love since and now doesn't care if he lives or dies.
"I go back and forth about whether he gets life or death. I just want it to be over with," she said.
Article continues below advertisement