Father Of Petit Family Killer Testifies, 'Josh Was Always A Miracle To Us'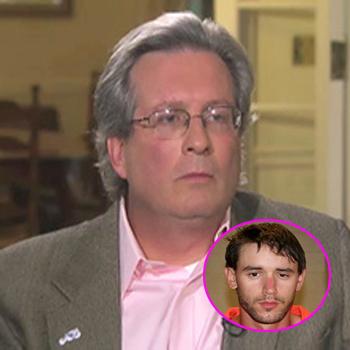 Dr. William Petit has been a constant sight in court since his wife and two daughters were murdered during a horrific home invasion in 2007, but it was convicted killer Joshua Komisarjevsky's father who took the stand on Wednesday, RadarOnline.com has learned.
For the second day of the penalty phase of the triple murderer's trial that will decide if he spends his life in prison or is senteneced to death, the defense called Ben Komisarjevsky to testify in support of his adopted son, reported the New Haven Register.
Article continues below advertisement
As RadarOnline.com previously reported, Komisarjevsky was found guilty of 17 counts on October 13 for the grisly murders of Jennifer Hawke-Petit and her daughters, Hayley, 17, and Michaela, 11, and the vicious beating of their father on July 23, 2007.
In a gravely voice, caused by Parkinson's Disease, his elderly dad described a boy who was a world away from the cold-hearted killer who had barely flinched when, earlier in the trial, the prosecution revealed graphic details of the sexual abuse he inflicted on Michaela. The two sisters then were tied to their beds when Komisarjevsky and his accomplice, Steven Hayes, doused their Cheshire, Connecticut home with gasoline and set it alight, they both died from smoke inhalation.
"Josh was always a miracle to us," said the devout Christian who ran a religious group, while photos of the young boy were shown on a big screen in the New Haven courtroom in attempt to portray the human-side behind the 31 year old's sinister mask.
As usual, the defendant looked at his childhood photos without a flicker of emotion as jurors saw images of a smiling, bouncing baby that were taken shortly after Benedict and Jude Komisarjevsky adopted him in 1980.
Article continues below advertisement
Another photo, that is a sinister prediction of horrors to come, shows a four-year-old Josh decorating a cake with a teenager named Scott, who later went on to sexually abuse him, according to defense attorneys, and burn him with cigarettes.
During his initial trial, defense lawyers revealed how Komisarjevsky was anally and orally raped between the ages of 4 and 6, and also tortured.
Ben revealed that he and his wife, Jude, took in Scott (along with his sister, Beverly) despite knowing he was abused and developmentally challenged because, "Nobody else would love them," he said, reported the Hartford Courant.
On Tuesday, defense attorney Jeremiah Donovan had described the "spooky" home where Joshua grew up, that was "full of secrets, a troubled marriage, mental illness and the exorcism of demons."
"The evidence will show that this young man was doomed from birth," said Donovan, describing Komisarjevsky as a "damaged lad," who was sexually abused by "big, brutal, nasty and mean" 15-year-old Scott.
"Joshua lived in a state of fear," so he would sneak out into the woods to hide, or peer into people's homes and steal panties off backyard clotheslines.
Article continues below advertisement
The Komisarjevskys' church rejected psychology, psychiatry or any kind of mental health treatment, reported the Hartford Courant, so their son was treated by church leaders who placed members in trances to banish evil.
The penalty phase to decide if Komisarjevsky joins Hayes on death row continues.
As RadarOnline.com previously reported, Hayes, who was sentenced to death last year for his role in the crimes, has claimed in a series of letters from prison that he has "17 kills. Perfect victims and well executed, controlled endeavors."