Exclusive
Triple-Murderer Joshua Komisarjevsky 'Bragged About Beating Dr. Petit,' Reveals Ex-Girlfriend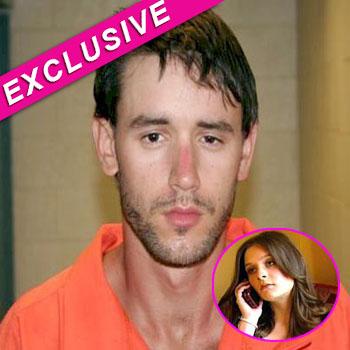 The defense attorneys in the ongoing penalty phase of the convicted Petit family killer are digging out more details about Joshua Komisarjevsky's troubled early years to garner sympathy from the jury, but RadarOnline.com can reveal that the triple murderer had little remorse following the violent crime.
In an exclusive interview with RadarOnline.com, the Connecticut killer's ex-girlfriend said that her teenage lover even boasted about the ferocity with which he beat Dr. William Petit during the horrific home invasion on July 23, 2007, that left Dr. Petit's wife, Jennifer Hawke-Petit, and daughters Hayley, 17, and Michaela, 11, dead.
Article continues below advertisement
"He bragged about hitting Dr. Petit," Caroline Mesel, who was dating Komisarjevsky at the time of the murders, told RadarOnline.com. "He said, 'You should have seen how big this guy was, I had to hit him a number of times.'"
The disturbing conversation took place just a week after the family was attacked and their Cheshire, Connecticut home was burned down, when Komisarjevsky called teenage Mesel on his lawyer's phone from the warder's office.
"I told him that was gross. He didn't sound remorseful in the slightest," said Mesel, who had moved with her family to Arkansas just weeks earlier.
Instead of taking responsibility for his cold-hearted actions, the 31-year-old portrayed accomplice Steven Hayes as the evil ringleader behind the plot.
"He tried to blame it all on Hayes," Mesel explained. "Josh said he told him, 'You got yours, now I get mine,'" she revealed, referring to the fact that Steven raped mom Jennifer before strangling her, and then Komisarjevsky sexually assaulted her 11-year-old daughter, Michaela.
Article continues below advertisement
As RadarOnline.com previously reported, Komisarjevsky admitted to molesting the school girl while she was tied to her bed.
"One thing led to another and I ended up … performing oral sex on her — on KK," he said in a chilling police confession, using the nickname Michaela's family referred to her by.
"She had this look on her face that she understood, like you know that, yeah we were here, and we were invading her home and that she understood that we wouldn't hurt them and we'd just be on our way."
MORE ON:
Celebrity Justice
Both daughters died of smoke inhalation after the house was doused in gasoline and set alight.
Now that her first love faces the possibility of life in prison or the death penalty, Mesel doesn't care if he lives or dies.
"I go back and forth about whether he gets life or death. I just want it to be over with," she said in a previous interview with RadarOnline.com.
As Dr. Petit relives the horror of that night in court every day, Caroline revealed how her association with the murderer haunted her teenage years.
Article continues below advertisement
"I was devastated, I couldn't sleep for weeks and had nightmares," she told RadarOnline.com. "I would sleep with my mom and cry constantly. I thought, 'This can not be happening.'
"How do you do that to someone you don't even know, to two girls who hadn't even lived their life? And to a mom...It was so shocking, I had no idea. Everything changes, your whole perception in life changes."
Whatever happens to Josh, Caroline said she will never be in touch with him again.