Exclusive
Dr. Petit Wished 'The Very Best' On His Engagement By Uncle Of Family's Murderer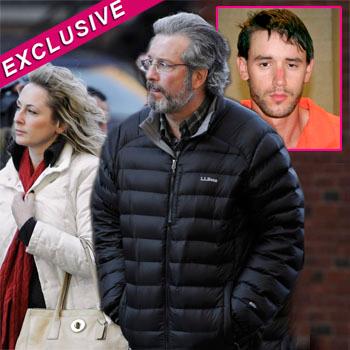 By Debbie Emery - Radar Reporter
Four years and two murder trials since his family was massacred, Dr. William Petit has finally found happiness with a new love and the uncle of convicted killer Joshua Komisarjevsky has offered his congratulations on their engagement, RadarOnline.com can exclusively reveal.
"Of course, we wish him the very best," Christopher Komisarjevsky told RadarOnline.com in an exclusive interview. "We are happy that he's found happiness after the tragedy."
Article continues below advertisement
Komisarjevsky was found guilty of 17 counts on October 13 for the grisly 2007 murders of Jennifer Hawke-Petit and her daughters, Hayley, 17, and Michaela, 11, and the vicious beating of Dr. Petit in their Cheshire, Connecticut home.
As RadarOnline.com previously reported, Petit, 55, proposed to Christine Paluf, 34, after Christmas but they have not yet set a wedding date.
While he has not spoken to the happy couple since the wedding announcement, Christopher has met Petit's new fiancée. "She was in the courtroom during the trial so we had a chance to say hello," he told RadarOnline.com.
Despite being the uncle of Joshua, who was sentenced to death last December for his part in the horrific triple murders, Christopher has long been a strong supporter of Dr. Petit and has grown close to his family during the lengthy court proceedings.
"We have exchanged Christmas cards. We hope to stay in touch with them," he told RadarOnline.com, although he doesn't expect to attend the nuptials.
"We wouldn't go to the wedding, I don't think that would be appropriate."
Article continues below advertisement
The hideous crime that his nephew committed, along with accomplice Steven Hayes, who was sentenced to death in December 2010, has created a unique bond between Christopher and the victims' family, who have expressed "warmth and kindness," to him and his wife during the lengthy trial.
Paluf attended the Komisarjevsky trial with Petit, members of his family and even those of his late wife, whom they have also shared meals and gone to church with, reported the Hartford Courant.
Jennifer's sister, Cindy Hawke-Renn, said the couple has been dating since the summer. She explained how Paluf's "down-to-earth" and "jovial" personality has helped change her brother-in-law from a man of despair to a man of hope.
"There's been a huge change in him," Hawke-Renn revealed.
"He sees a reason to be happy again, a reason for joy in his life. He still has sad days, periods of sad days, but she helps him with that. She is uplifting, and it makes you want to be around her."
Article continues below advertisement
The bride-to-be is a photographer, who has taken photos at Petit Family Foundation events. The foundation, dedicated to the memory of Petit's wife and daughters, supports the education of young people, especially women in the sciences and those affected by chronic illness and violence.
While the Petit family looks forward to a fresh start, the Komisarjevskys are also moving on following four incredibly tumultuous years.