Exclusive
Ohio School Shooting Victim's Family Trying To Get Over Their Loss, 'It Is A Rollercoaster To be Honest'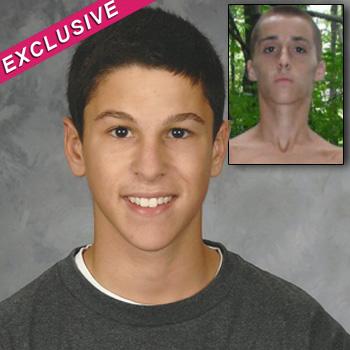 Article continues below advertisement
As RadarOnline.com previously reported, Daniel Parmertor, 16, was the first fatality of the Chardon High School shooting when he was shot by suspect Lane while waiting for a bus to a nearby vocational center. He was joined on the list of deceased on Tuesday by close friends Russell King Jr., 17, and Demetrius Hewlin, 16, who both died from their injuries while being treated at Cleveland's MetroHealth Medical Center.
Daniel's family has been devastated by the loss of their son, but his uncle, Ron Parmertor, exclusively revealed to RadarOnline.com that they are blown away by the outpouring of sympathy they've received.
"We are hanging in there with the support of our family and friends and the community, and people from other communities and all over the world," Ron told RadarOnline.com in an exclusive interview, while he shared heart-warming childhood photos of Daniel.
Article continues below advertisement
"Everything helps even if it is neighbors coming over with food or to take out the trash. Little things like people tying red ribbons around posts in the town gives us comfort. Not one thing is more important, not one thing is ignored," he revealed. "We have a big supportive family and a close community."
Ron, whose brother, Bobby, is Daniel's dad, opened up about how the teenager's family has come to terms with the gigantic loss and the gaping hole in their lives in the three days since the shooting.
"It is a rollercoaster to be honest. One minute you are fine and the next minute you are breaking down so it is tough," Ron explained, adding that they couldn't escape it even by turning on the TV or going on the Internet as his nephew's face was constantly appearing in news reports.
"You want to remember Danny, then you see a photo and cry and get your emotions out."
Uncle Ron went on the reveal to RadarOnline.com his favorite memories of the young boy who had his whole life ahead of him.
Article continues below advertisement
"Danny was a fun loving kid, he always had a smile on his face. We're all big Cleveland Browns football fans and we'd come over on Sundays and Dan would be the first one to the door and give us a big hug, then we'd have our hearts broken when the team lost," he recalled fondly. "He was always trying to crack a joke and always making us laugh."
Ron has a 13-year-old son and a daughter, 11, of his own and said that Danny was close to his younger cousins. "He would have my son cracking up from the time we got at their house until the time we left."
The social teen was close friends with all the other victims in the shooting, but his uncle doesn't know how well he knew their killer.
"I can only assume that he knew T.J. because he took the same bus as Danny to Auburn Career Center. They may have known each other."
The smart student who loved technology, "was going through a technical school for computer training, and Bobby and (mom) Dina were going to take him to visit Ohio State University next month as he hoped to go there for college," said his grieving uncle.
Article continues below advertisement
Many parents have credited staff at Chardon High for their fast action after Lane first pulled out a gun from his backpack and opened fire in the school's cafeteria, and Parmertor agrees that they stopped the tragedy from being even worse.
"The school was amazing," he told RadarOnline.com, but admitted that it made him worry about the safety of his own children.
"Sadly it is always going to be in the back of my mind. It has made me think about the safety of our schools. But our school district and police are aware of the ongoing danger and we have to trust that they will find the best way to keep our children safe."
Despite their own loss, the Parmertors haven't stopped thinking about the families of the other teens killed or injured by Lane.
Nickolas Walczak, 17, remains in serious condition in the hospital, with no feeling from the mid chest down, while Joy Rickers, 18, has been allowed to return home.
"Nick's mom said that it is hard for her because she feels guilty because her son is living," Ron explained. "She should not feel guilty, we are all in this together.
Article continues below advertisement
"The only people who know how we feel are the families that are directly involved," he added. "Helpers' hearts and prayers are with us but no one knows this pain unless they have lived through it."
When it comes to the long road to recovery, Ron has been encouraging Daniel's parents to talk about their son to ease the mourning process. "I told them I thought the best way to do it was to talk to the world about Danny.