Ohio High School Shooting 911 Calls Released, 'There's A Student With A Gun'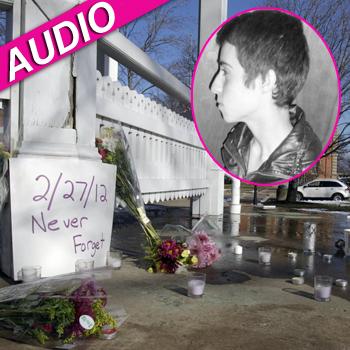 Four panicked 911 calls made by witnesses of Monday's shooting rampage at an Ohio high school have been released by police, and RadarOnline.com has audio from the chilling tapes.
The calls were released shortly after 17-year-old suspect T.J. Lane appeared in juvenile court on Tuesday for a detention hearing that determined he should be held in juvenile custody for at least 15 days.
Lane will next face Judge Timothy Grendell in the Geauga County courthouse on March 1 when he will be formally charged for killing three fellow students and injuring two others during his rampage at Chardon High School.
Article continues below advertisement
In the chilling tapes, dispatchers can be heard relaying details of the shooting spree while Lane is still on the loose. "We've got multiple gun shots," explains one frenzied caller. "It sounded like it came from the gym, cafeteria area."
"This is Chardon High School calling, we're in lockdown and we need assistance right now," says another, calmer, staff member. "There's a student with a gun... He's in the school somewhere."
Another caller identified as Doug Snyder explained, "There's a report of a gun and a knife... We've got students down, there are three in the cafeteria and one in room 200," he said while frantically to trying find out where the shooter was.
The school's principle can then be heard informing dispatchers that the shooter was seen running out the back door past the tennis courts and towards the pool, describing him as, "White t-shirt, shaggy dark hair, tall, skinny," he said. "We have a name that we think." When asked, "Is that Thomas?"
Article continues below advertisement
Earlier on Tuesday, authorities in Chardon, which is located 30 miles from Cleveland, held a press conference to calm the tight-knit community in light of the tragedy.
"This is not about bullying. This is not about drugs. This is someone who is not well," explained prosecutor David Joyce.
"(Lane) confessed to taking the pistol and admitted he went into the cafeteria and shot 10 rounds. (He said) he did not know the students, but chose them randomly."
The prosecuting attorney went on to say that the 17-year-old went to Chardon High School with a .22 caliber handgun and a knife, reported ABCNews.com. He shot four students in the cafeteria and one in the hallway before leaving the school. He was detained by police within a mile of the school.
Joyce said that he expects Lane to be charged with three counts of aggravated murder and "absolutely" wants him to be tried as an adult, a decision that will be made by the judge later next month.
MORE ON:
Celebrity Justice
Article continues below advertisement
"We're going to try this case, I assure you, but this next week is about getting our kids back into school," he promised.
A school spokesperson reassured concerned parents that counselors have been assigned to Chardon High to help the staff and children cope when they return to school officially on Friday.
The high school will open on Thursday for parents and students to gather to encourage them to get back into school safely.
Tuesday saw two more deaths as Demetrius Hewlin, 16, and Russell King Jr. joined Daniel Parmertor on the list of Lane's victims. Nick Walczak remains in the hospital and Joy Rickers has been released.
Listen to portions of the 911 calls below: