Third Victim Is Confirmed Dead In Ohio Shooting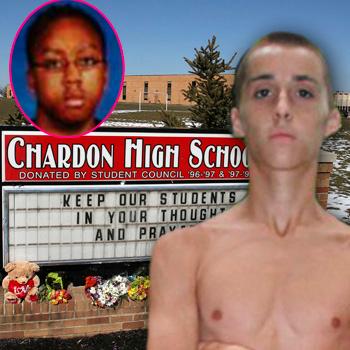 Article continues below advertisement
As RadarOnline.com previously reported, the second victim from the tragic shooting passed away earlier on Tuesday morning, when 17-year-old Russell King Jr. was pronounced brain dead.
Daniel Parmertor, an aspiring computer repairman who was fatally shot while waiting for a bus to take him to a nearby vocational center, was the first to die on Monday.
When Hewlin's death was confirmed, his family sent a heartfelt message out to loved ones and supporters. "We are very saddened by the loss of our son and others in our Chardon community," they said in a statement released by the hospital.
"Demetrius was a happy young man who loved life and his family and friends. We will miss him very much but we are proud that he will be able to help others through organ donation. We ask that you respect our privacy during this difficult time."
Two other students are recovering at nearby Hillcrest Hospital.
Lane is currently in custody and will appear at 3:30 p.m. local time Tuesday at a detention hearing in Geauga County Juvenile Court. It is expected that the prosecution will make a request that the 17-year-old be tried as an adult due to the ferocity and premeditation of his crime.
Article continues below advertisement
There is reportedly a video from the school security camera showing Lane calmly pulling a gun out of his backpack and showering an entire table of his classmates with a hail of bullets, which will no doubt become crucial evidence.
The teenage killer was first named by Nate Mueller, a junior at Chardon High School, who narrowly escaped death when a bullet grazed his ear during the initial round of fire. He was sitting with a group of friends having breakfast when he claims T.J. approached their table and the gunfire began, and he revealed that one of his friends, King – victim number two - had recently begun dating Lane's ex-girlfriend, which is being discussed as a potential motive for the massacre.