Ohio Shooter T.J. Lane Appears In Court For Detention Hearing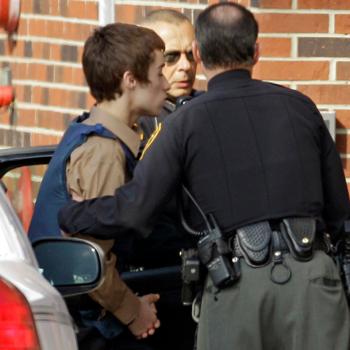 By Debbie Emery - RadarOnline.com Reporter
The 17-year-old Ohio high school shooter appeared in court on Tuesday for a detention hearing after he allegedly killed three of his classmates and injured two others during a rampage on Monday.
T.J. Lane appeared with two aunts and his grandfather in front of a judge at the courthouse in Geauga County, Ohio. Cameras were allowed in the courtroom but it was ruled that Lane and his family should not be filmed.
Article continues below advertisement
As RadarOnline.com previously reported, Lane opened fire on a group of fellow students in the cafeteria of Chardon High School at around 7:30 a.m. on Monday morning. The first victim, Daniel Parmertor, died later that day, and Russell King Jr, 17, and Demetrius Hewlin, 16, were declared dead on Tuesday morning.
The hearing was held to determine whether he should be held in shelter care, or if he was not considered a threat, returned to his home. The judge ruled that he will remain detained for at least 15 days because of the seriousness of his crime, and to protect him from harming himself and others.
Lane will be back in court to be formally charged on March 1, and then the initial hearing has been scheduled for March 6 at 3 p.m.
The issue of whether Lane is tried as a juvenile or an adult has been hotly debated during the past 24 hours, which will be decided in a separate court date later in March.
According to a CNN report, Lane told the police that the victims in this case were not targets at all, and claims that he didn't even know them and he chose them randomly. This is contrary to witness statements that claim he honed in on a group of students sitting at a table in the cafeteria.
MORE ON:
Celebrity Justice
Article continues below advertisement