Ohio Shooting Victim's Family Speaks Out: 'We Forgive His Killer'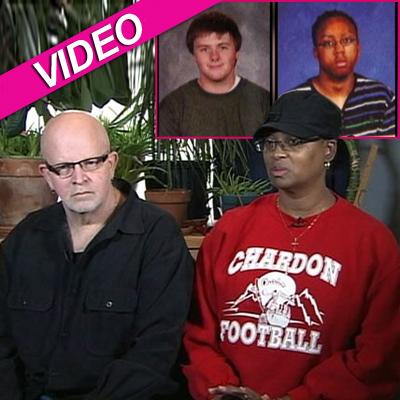 By Debbie Emery - RadarOnline.com Reporter
Demetrius Hewlin was the third victim to die after being gunned down allegedly by 17-year-old T.J. Lane during his rampage at Chardon High School in Ohio on Monday, and his grieving parents are now speaking out about their loss.
"I don't know what his final moments were like, but I can't worry about it," his mother Phyllis Ferguson told ABC News in an exclusive interview. "You have to accept things done and move on."
Article continues below advertisement
As RadarOnline.com previously reported, Demetrius, 16, died from gunshot wounds on Tuesday at Cleveland's MetroHealth Medical Center. Two other students -- Russell King Jr. and Daniel Parmertor -- also were killed in the shooting spree.
When asked what she would say if she came face to face with her son's suspected killer, Ferguson kindly replied: "I would tell him I forgive him because, a lot of times, they don't know what they're doing. That's all I'd say.
"I taught Demetrius not to live in the past, to live in today and forgiveness is divine. You have to forgive everything. God's grace is new each and every day," she said. "Until you've walked in another person's shoes, you don't know what made him come to this point."
More details have emerged of Lane's troubled childhood and an abusive upbringing that included a deadbeat dad who was sentenced to jail for viciously beating his now ex-wife. We don't know the motive for the shooting, but there's been speculation that T.J. was reaping revenge on King for dating his ex-girlfriend, although Lane reportedly told police that the victims were random and not picked out.
Article continues below advertisement
While Lane is described as quiet and a loner, Demetrius' mom said her son was a "huggy, kissy boy" who was a "computer nerd," that liked to read. He was good friends with King and Parmertor -- another indication that the group may have been targeted - and the trio used to play pee-wee football together.
Hewlin hated getting up early and on Monday he was running late for school as usual, but sadly not late enough to miss the 7:30 a.m. shooting spree. "He wasn't a morning person," revealed his mother, who added that she never expected that she would be burying her son.
"I thought he'd bury me," Ferguson said. "He'd say, 'When you get old, Ma, you're going to live with me and we're going to do this.'"
Hewlin's family are honoring their son's wish by having his organs donated.
On Wednesday night, hundreds of mourners from the close-knit community of Chardon, which is 30 miles from Cleveland, remembered the slain teens at a candle light vigil, where they also prayed for Nick Walczak, 17, and Joy Rickers, 18, who were injured in the spree.
MORE ON:
Celebrity Justice
Article continues below advertisement
"My brother is still in serious condition, still no feeling from the mid chest down although he said he felt a twitch in his left calf the other night which is clearly a good sign," Nick's brother Josh Walczak told ABC News, while Joy has been released home. "He pretty much has to relearn how to walk."