Zimmerman Father: George Has Gotten Bad Rap, Believes Trayvon Martin Beat Him Up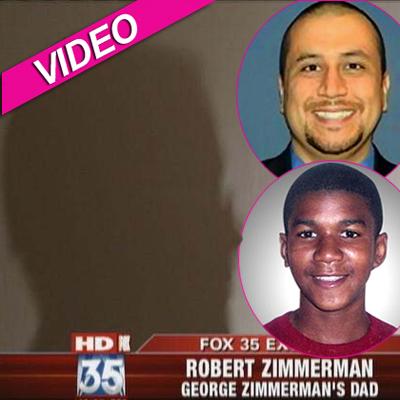 George Zimmerman's father Robert broke his silence in a television interview Thursday, discussing his son's February 26 shooting of 17-year-old Trayvon Martin, which has erupted into a national story with elements of race, politics and law enforcement brought to the forefront.
"It's my understanding that Trayvon Martin got on top of him and just started beating him," said Robert, whose face was not shown in the Q&A with Fox 35 in Orlando, Florida.
Article continues below advertisement
Robert, an ex-judge and veteran of the Vietnam War, said George has gotten a bad rap the fallout of the incident, as "they're just making up things not true about him."
Robert, 64, said that his George, a 28-year-old neighborhood watch volunteer, had his antennas up after a sting of break-in robberies in their Sanford, Florida neighborhood. When George saw Trayvon walking between houses that night, his father said, he became suspicious and contacted police.
"He called the non-emergency number first, and they asked him where he was, because he was at the rear of the town houses and there was no street sign," said Robert, acknowledging George went against police orders by following Trayvon in hopes of pinpointing a location authorities could detain him at.
"He went to the next street, realized where he was and was walking to his vehicle," Robert said. "It's my understanding, at that point, Trayvon Martin walked up to him and asked him, 'Do you have a expletive problem?'
Article continues below advertisement
"George said, 'No, I don't have a problem,' and started to reach for his cell phone... at that point, Trayvon was punching him in the nose, his nose was broken and he was knocked to the concrete."
Robert said when Trayvon saw George had a firearm on his person, he told something akin to, "You're gonna die, tonight."
After enduring more brutal strikes from Trayvon, "George pulled his pistol and ... did what he did," his father said.
Robert said the screaming heard on the audio tapes of the incident are undisputedly his son's voice.
Robert disputed the account given by Trayvon's 16-year-old girlfriend, who told police she was on the phone with Trayvon during part of his confrontation with Zimmerman. She told authorities Trayvon asked Zimmerman, "Why are your following me?" to which Zimmerman responded, "What are you doing around here?"
Article continues below advertisement
Not so, says Robert.
Watch the video on RadarOnline.com
"I don't believe that happened: I don't believe she was on the phone with him, and I find it very strange -- with the publicity involved in this -- that all of a sudden, after three weeks, someone would remember that they were on the phone."
Robert said George has "not been dealing with the incident well.
"He's not in good shape," he said.
Robert said life has been "unimaginable" in the wake of the incident: "Tough was being in Vietnam and other things -- this is way beyond anything I can imagine.