Trayvon Martin's Parents To Speak At Meeting On One Month Anniversary Of Shooting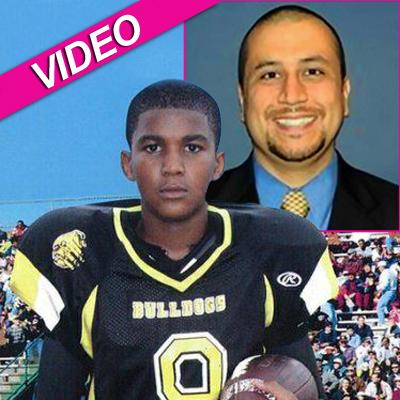 A month to the day Trayvon Martin was fatally shot by neighborhood watch volunteer George Zimmerman, the teen's parents will speak at a meeting Monday in Sanford, Florida, where the shooting occurred.
Legendary athletes such as Baltimore Raven Ray Lewis and NBA Hall of Famer Patrick Ewing are slated to attend.
On Sunday, demonstrators chanted "No justice, no peace" during a candlelight vigil for the 17-year-old, while churches across the country, people wore hooded sweatshirts in solidarity for Martin, who Zimmerman claimed looked "suspicious" in the garment
Article continues below advertisement
The Rev. Jesse Jackson Sunday said that, "We as a nation have become much too violent.
"If it's black on white, it's jail time," he said. "If it's white on black, it's revolt time. If it's black on black, or white on white, or brown on brown, it's Miller time."
NBA superstars LeBron James and Dwayne Wade have also taken online in memory of the boy.
Watch the video on RadarOnline.com
As we previously reported, controversy and tension hovering over the February 26 incident continues to mount, as Zimmerman has yet to face any consequences in connection with the teen's death. The 28-year-old Zimmerman, whose mother is Hispanic and father is white, claimed his shooting of the unarmed teen came in self-defense.
President Barack Obama on Friday added a personal touch in his first public reaction addressing tragic death.
"I can only imagine what these parents are going through and when I think about this boy I think about my own kids," the president said. "If I had a son he'd look like Trayvon. I think they are right to expect that all of us as Americans take this with the seriousness that it deserves and we're going to get to the bottom of what happened."