Exclusive
Ashton Kutcher: Blocking Journalists From His Twitter!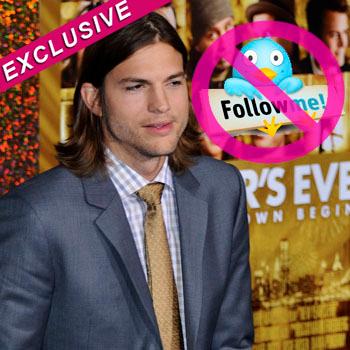 Article continues below advertisement
"@aplusk is awfully sensitive these days...blocking entertainment journalists on Twitter and using a lawyer on the Demi situation," Perel tweeted from his @IMPerel account.
"Sure @aplusk has banned @dylanshoward and me from following him, but we always had a lot more fun with Charlie anyway! #winning."
Perel is referring to L. Stanton Stein, the new attorney Kutcher has hired to make sure the situation between himself and his estranged wife Demi Moore — who was taken to the hospital a week ago because she was taking Adderall and had a seizure and suffers from anorexia -- doesn't reflect poorly on him.
It was of course Star magazine who exclusively broke the details of Kutcher and Moore's impending $290 million divorce, a full nine weeks before the actress announced they were separating.
Star was also the magazine that splashed exclusive photos of the Punk'd star partying with a gaggle of blonde girls in the San Diego hotel penthouse, where he reportedly slept with 23-year-old Sara Leal on his sixth wedding anniversary with Moore, across their cover in October.
Article continues below advertisement
"Just found out @aplusk has blocked @IMPerel and I from following him on Twitter. Now waiting for Kutcher state-run showbiz news service," Howard quipped on Twitter.
"Out of 9,355,302 followers, @IMPerel and I didn't make the cut. What's with that @aplusk?! Come on... I loved Dude, Where's My Car?"
Perel tells RadarOnline.com: "Well I figured when Demi and Ashton split that I was going to live with mom! But the pain of rejection still stings, especially because more than 9 million other people are still allowed to follow him. I miss Charlie Sheen!"