Jenelle Evans: I Did Not 'Steal' Boyfriend's Daughter, His Baby Mama Is On Crack!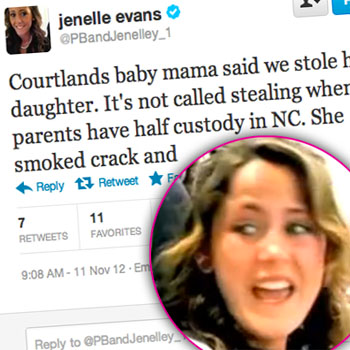 By Alexis Tereszcuk - RadarOnline.com Entertainment Editor
Jenelle Evans is standing by her man, denying that they kidnapped his daughter and even accusing his baby mama of smoking crack!
The troubled Teen Mom star took to her Twitter account to deny that she and her boyfriend Courtland Rogers did not "steal" his daughter and revealed the shocking accusation that his whole family is "f**ked up."
"Courtlands baby mama said we stole her daughter. It's not called stealing when both parents have half custody in NC. She smoked crack and…Handed his daughter over to Courtlands sister at 2am," Jenelle wrote about the situation.
Article continues below advertisement
The MTV star does not have custody of her own son Jace, he lives with her mother Barbara Evans and she has been trying to get him back this year.
Jenelle continued her rant against Courtland's baby mama, writing: "Her whole family is f**ked up Her dad is in prison, mother stripper, GRANDMA locked up.
"There's the truth everyone."
Jenelle and Courtland live in North Carolina, and she said that he is going to have to take legal action to get his daughter back.