Exclusive
Farrah Abraham's Plastic Surgeon Reveals Details Behind The Teen Mom's Dramatic Transformation!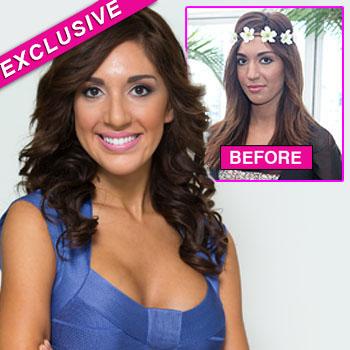 Article continues below advertisement
The pair chatted via email and Skype to best evaluate the 21-year-old reality star's needs before she went under the knife on October 7, with Dr. Salzhauer sending Farrah digitally altered photos showing what she would look like.
"When I was looking at her pictures online I saw her chin was kind of weak," explained Dr. Salzhauer, who suggested she got a silicone implant to enhance her natural features. "Then when she came here and I examined her, she went for it!"
The invasive surgery is actually one of the most popular among people her age, which the highly acclaimed Miami-based surgeon says is the fastest growing procedure in America and up 35 percent over recent years.
"My guess is that people are taking more pictures of themselves ever before on Facebook and Twitter and are seeing themselves in angles that they hadn't previously," he explained.
"So much of human facial beauty has to do with the profile, so if your chin has a bump on it and tends to stick out, it is really not that attractive. Just taking it down a little bit can turn someone's aesthetic appeal around completely."
Article continues below advertisement
Farrah had previously told In Touch magazine that she hoped her new look would boost both her career and her love life.
"It's said that if you're happier, you have better luck with relationships," the reality TV star reasoned.
"She had breast implants after her baby, which is also very common for 18 to 25 year olds," explained Dr. Salzhauer, but now the Teen Mom star is done going under the knife. "She is happy with the way she looks and isn't planning anymore."
As for whether three serious surgeries is excessive for someone who can barely barely legally drink or vote, he replied. "Not in Miami! It depends on the state and what city you are in, but because we have the South American flavor here it is a lot more acceptable to get breast augmentation or rhinoplasty."
The single mom from Council Bluffs, Iowa, had expressed the concern that her latest $16,000 makeover would mean that daughter Sophia, 3, wouldn't recognize her, so Dr. Salzhauer gave her a copy of his book, My Beautiful Mommy, which is a way for women to tell their children that they had plastic surgery.
Article continues below advertisement
Mickey Rourke's Wrecked Face Is 'A Plethora Of Scars From Several Operations,' Says Plastic Surgeon