Teen Mom's Farrah Abraham: 'All I Could Think About Was Killing Myself'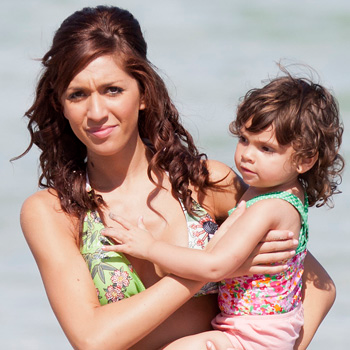 It's been a long, tough road for Teen Mom Farrah Abraham, who says she contemplated suicide in December 2010 -- two years after her child's father, Derek Underwood, died in a car accident -- as the holidays brought her back to the miserable time in her life.
"I figured I would drown myself in the bathtub -- that seemed like the easiest way to go," the 21-year-old Iowa native, who now lives in Florida, told InTouch.
Article continues below advertisement
Farrah said she'd plotted how to explain to her daughter Sophia why she was going to leave her orphaned.
"I pictured telling her that I missed her daddy, and that I felt overwhelmed by the changes in my life and that she deserved the best and should be surrounded by happiness," Farrah said, adding the fear of what would have happened to her daughter if she died ultimately quelled her self-destructive instincts.
The beautiful Farrah said at one point, she drank and used drugs such as cocaine and marijuana to numb herself to the pain of reality.
"When I drank, I'd be happy for 10 minutes," Farrah said. "When I got high, I'd feel a sense of nothingness for about an hour. But in the end, my negative emotions always came rushing back."
Eventually, the ambitious Farrah said she began seeing a therapist, which she said helped her manage her emotions.
Article continues below advertisement
Farrah said she was diagnosed with clinical depression and is taking medication. She said she's far more grounded now because she realizes she has to be there for her baby girl, through thick and thin.
"I realized I was being selfish," she says. "The most important thing is making sure that Sophia's well taken care of -- how am I going to do that if I'm dead?"
Farrah's new book My Teenage Dream Ended hits stores on Tuesday, August 14.