Exclusive
Jenelle Evans' Friend Reveals Her Ex-Fiance Gary Head's Alleged Drug-Fueled Violence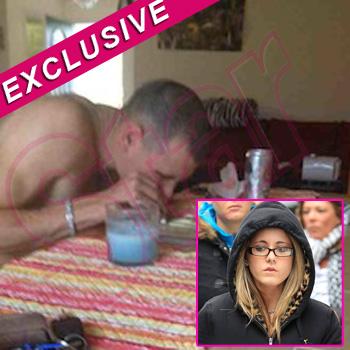 Jenelle Evans has broken up with her violent ex-fiance Gary Head, and in an exclusive interview her terrified roommate provided bombshell images that appear to capture Gary snorting drugs off Jenelle's kitchen table and also painted a picture of a violent relationship in which Gary allegedly abused Jenelle in front of her 2-year-old son, Jace, and once even held a gun to her head.
"When Gary is in one of his jealous rages, he gets scary insane," Allison Lester, Jenelle's roommate, claimed to Star magazine. She went on to allege incidences when the Marine would strangle the Teen Mom star in bed, push her into the wall in front of Jace and even squeeze her face so tightly that "her ears would bleed."
Article continues below advertisement
Although Gary has denied the allegations, Allison claims, "The abuse Jenelle suffered at the hands of Gary is far worse than anyone could have imagined." She is convinced that if Jenelle returns to her abuser, the relationship could very well end in bloodshed.
"I've had to call the police several times," claims Allison, who believes the rages are fueled by what she alleges is Gary's Percocet abuse. "Another time, Gary put a loaded gun to her head and threatened, 'I'm going to kill you,' if she didn't allow him to look through her phone."
Gary denies the Percocet claim: "I've been in the Marines for three years and get drug tested regularly, so I don't know how snorting Percocet would even be possible," he said.
Gary and Jenelle were both arrested after a violent incident on June 24, where RadarOnline.com reported that he "beat the sh*t out of her."
Allison claims that Gary had wrapped a bed sheet around the young mother's neck, drawing it tight and strangling her. The MTV reality star punched back in self-defense, and he hissed, "If you're going to throw like a man, you have to take it like a man."
Article continues below advertisement
The night began with Jenelle, 20, and Gary, 24, getting into a fight and deciding to go to separate parties. Later, Gary called Jenelle and demanded she come home to bed. When the reality star said no, Gary allegedly grew incensed. "He went outside the house where she was partying and shot off several rounds from his AK-47 as a warning sign," claims Allison.
Allison also alleges that Jenelle's home is filled with rampant drug abuse: "He snorts Percocet all the time, and Jenelle is always smoking pot now that she's off probation."