16 And Pregnant Star Jamie McKay Admits To An Abortion, Says 'I Made A Mistake'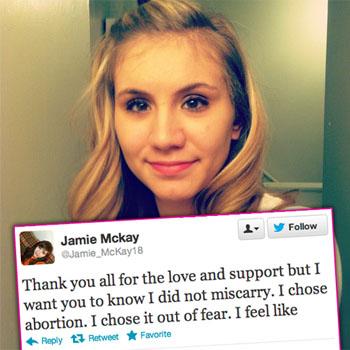 By Debbie Emery - RadarOnline.com Reporter
16 And Pregnant star Jamie McKay made a shocking announcement on Twitter on Thursday that she had decided not to become a teenage mother again and had aborted her second child with boyfriend, Ryan McElrath.
"Thank you all for the love and support but I want you to know I did not miscarry. I chose abortion. I chose it out of fear. I feel like I made a mistake and I can't take it back," she bravely revealed to her followers.
Article continues below advertisement
"I have had this in my heart and it has been very hard on me. I was afraid to be judged by my family, my mother, even my dad. So I did it before they could find out. I should have looked into my options more but I didn't."
While the 19-year-old teen mom's heartfelt honesty sparked many supportive comments from fans, Jamie also got some vicious reactions from people after she posted a photo (which has since been taken down) of her ultrasound, with the caption: "Rest in peace little angel. September 17, 2012."
"Wow so u took a pic of the baby u killed?? Seriously… WOW," was one bitter response.
Others offered warm consolation, such as: "No one should EVER judge you for your right to choose, regardless of what or why you chose. Nor do you have to explain."
North Carolina native McKay went on to reveal that the daddy of her first daughter, Miah, had stuck by her through her latest challenge.
"Ryan has been supportive through it all in case you all were wondering he is the father of that child too. And he let me make my decisions," she wrote to any doubters.
MORE ON:
hollywood happenings
Article continues below advertisement
The young couple have had a tumultuous relationship that has included a court filing in May 2011 for sole custody, claiming that Ryan had "a history of driving while under the influence of alcohol" and a "history of cocaine abuse."
Jamie said she is now on birth control and has "blocked all the haters" on Twitter.
RELATED STORIES:
'16 and Pregnant' Returns With More Mama Drama