Teen Mom Jenelle Evans Dumped Boyfriend Courtland Rogers, Threatens Other Ex Over Sex Tape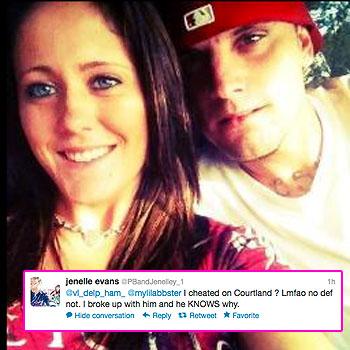 Article continues below advertisement
"I cheated on Courtland? Lmfao no def not. I broke up with him and he KNOWS why," Jenelle wrote on her Twitter account Monday morning.
But it wasn't anyone who accused Jenelle of cheating on Courtland, it was one of her followers accusing him of cheating on her saying, "You know she's single again. MR. PERFECT CHEATED!!!!!"
Not only has Jenelle broken up with Courtland, but she's also feuding with her ex Kieffer over his threat to release a video that will make her "cry" -- but the single mother is fighting back and vows to press charges if it's a sex tape.
Jenelle and Kieffer have been at war and the two are using Twitter to fight with each other.
"When this vid comes out shes gonna cwy like the CRYBABY she is," Kieffer wrote on Thursday and got an immediate response back from the social media savvy Jenelle.
"Why don't u just leave me the f**k alone?!" she retorted.
By Friday Kieffer used Twitter to remind Jenelle that they used to have a "sh*t load of sex" to which she immediately tweeted back:
Article continues below advertisement
"yeah and ill press charges on u if u took a video of us having sex without me knowing."
But Kieffer doesn't seem to be backing down and according to Jenelle, he's even got his mother involved!
"can u please tell yr MOTHER to leave me alone and stop talking sh*t all over twitter?? Thanks," Jenelle wrote to Kieffer on Monday.
Do you think Jenelle is just unlucky in love, or is she picking the wrong men? Leave your comments below...