Teen Mom's Jenelle Evans Slams Former Boss In Blistering Blog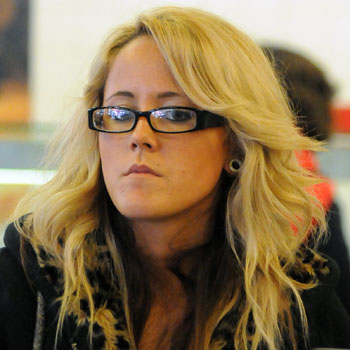 The drama continues for Teen Mom Jenelle Evans.
Evans on Tuesday ranted against a man she used to work for, painting him as a conman and sexual predator in a new post on her blog, Jaceandjenelle.com.
In the entry, the unpredictable Jenelle says she wants to clear up for her fans and followers "who is this James Duffy character and why is he constantly harassing me."
Evans says that she came across Duffy in September of 2011 on Facebook and noticed that while he was older, they shared many mutual friends on the website. She said that she responded to a job posting he put up for a personal assistant, to which he invited her to his house for dinner.
Article continues below advertisement
"I was very nervous going over there because I've never met him, he was friends with all my younger girls on my Facebook, and had lots of pictures with different girls that weren't his age," Jenelle wrote, adding she brought her pal Amber to his house.
Jenelle said that after two weeks of working for Duffy -- and feeling he was making advances at her -- she "told him she would NEVER date an older man."
She said on one occasion, she and a friend named Tori visited his house in November 2011 to find two young girls named Hannah and Jeri there.
"We ended up drinking over there and that's when Duffy started taking pictures of me and my friend Tori," Jenelle wrote. "He promised me that I could have the photos and he wouldn't sell them. Tori and I stayed in his spare bedroom that night and Duffy was mad and almost kicked out everyone because 'no one would go to sleep with HIM.'"
Article continues below advertisement
Jenelle said when she visited Duffy's house again for dinner with Tori, Hannah and Jeri, they all threw up and fearing they had been poisoned, left his house.
She said the next day "he texted me and said, 'If you don't have sex with me, or date me... I don't want you working for me anymore!' I said 'F**K OFF.' And then cut him from my life."
Jenelle said in the wake of the severance, Duffy has "sold numerous stories about me and is still spreading rumors and lies," adding she's corresponded with another of Duffy's enemies who informed her about issues he has with his business and child support issues.
She wrapped up by adding a series of screenshots to back up her claims about his legal issues, adding that, "TO THIS DAY this old sick f**k is still trying to ruin my life. It isn't working and whatever he is trying to accomplish he will never succeed, I promise everyone that."
Jenelle added, "He stole those naked pictures off of boyfriend Kieffer Delp's old cell phone and sold those pictures online."
Article continues below advertisement
She warned others to "not associate with this old man before he ruins your life or has sexual intercourse with your little sister or daughter even!!!"
On his personal Twitter page, Duffy does not address the blog, but does name call many users, including Jenelle, with terms we can't use here.
RELATED STORIES:
Jenelle Evans' Assault Charges Dropped, Ex Gary Head Pleads Guilty
Jenelle Evans Slams Baby Daddy Over $4K Child Support Bill