Jenelle Evans Slams Baby Daddy Over $4K Child Support Bill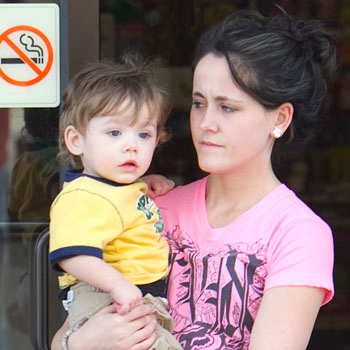 By Alexis Tereszcuk - Radar Entertainment Editor
Jenelle Evans is trying to win back custody of her young son from her mother but she's also taking on her baby daddy, claiming that he owes her thousands of dollars in back child support!
The Teen Mom says that Andrew Lewis, the father of her 3-year-old son Jace Evans, owes her $4,000!
"OHHHH Andrew, yu claim yu've been going to college since i've met yu. im going to be successful unlike yu. Yu still live with yr parents," she Tweeted on Friday morning.
Article continues below advertisement
"And yu are how old now? almost 28 ? yu also claim yu 'dont want to be in the industry' when clearly yu just got back from NYC where yu," and continued "COULDNT make it in the modeling industry so yu had to go back to mommy and daddy's house for support.
"if yu are 'doing well' why not pay the $4,000 in child support yu owe? thats bullsh*t. i pay every month, so should yu. or maybe yu should come see yr son? nope cant do that."