Tearful Jenelle Evans Hits Back At Mom, Says She Did Not Make A Porno!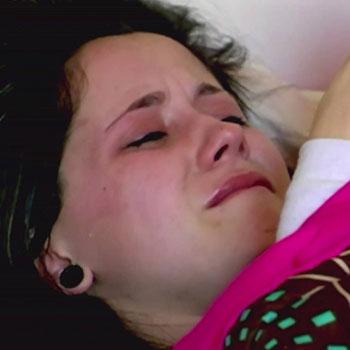 By Alexis Tereszcuk - RadarOnline.com Entertainment Editor
Jenelle Evans has taken naked photos in the past, but she is adamantly denying her mother's outrageous claim that she made a porn video.
The troubled Teen Mom has been blasting her family members in an intense battle that heated up after her mom Barbara Evans claimed that her daughter filmed a porno.
Jenelle slammed the report, tweeting: "This isn't true. There isn't a porno of me but this is what my mom said. I can't stop crying. She hates me…"
Article continues below advertisement
She shared the text from her mother that read: "Don't worry. Ashleigh has the video of the porno with 3 other guys with a one night stand with Roy Paterson before he went to jail."
Ashleigh Evans Wilson is Jenelle's sister who she is currently embroiled in a bitter fight with that escalated Wednesday afternoon, after RadarOnline.com posted a story about Ashleigh slamming Jenelle.
Jenelle branded her sister "psycho" and posted shocking video of her screaming at her baby after Ashleigh told Star magazine that Jenelle is "evil".
Jenelle has been hoping to get custody of her 3-year-old son Jace Evans back from her mother, but this latest argument with Barbara doesn't bode well for Jenelle.
"Jenelle has tried to straighten out and...she is fully committed to working hard to convince the court to let her have custody of her son back," an insider told RadarOnline.com exclusively of her plan to go after custody.
"She wants to be a full-time mom."