Exclusive
Teen Mom Nude Photo Scandal: Jenelle Evans Posed Naked After Boob Job, See The Pics!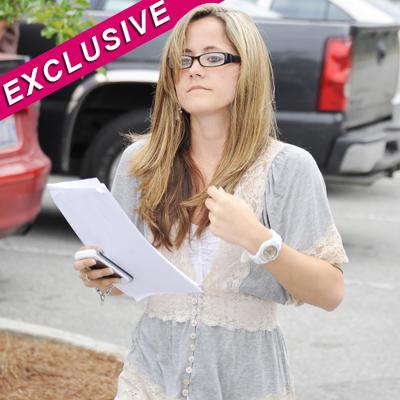 Article continues below advertisement
"She likes them," a source close to Jenelle says about her fake boobs, which are seen in the photos with the surgical gauze still underneath them. "She is really happy, but she thinks they're lopsided."
Looking fresh faced and smiling, Jenelle posed for the pictures from all angles showing off her surgically enhanced breasts.
Jenelle had the surgery done near her home in North Carolina and RadarOnline.com has exclusively learned that she paid $5,000 for her new boobs.
"MTV didn't want her to do it," the source says. "But they didn't do anything after she did it."
Jenelle, who spent time in rehab in 2011, apparently was "being a baby" about the pain after the surgery.
"She got Hydrocodone (a prescription painkiller) and they had her on morphine while she was going through it. She was all high, she was eating the hydrocodones like they were Skittles," the source says.
Article continues below advertisement
As for her family, the source says her young son Jace doesn't know about her new boobs but her mom Barbara likes them.
"She thinks it's good. She thinks Jenelle didn't get them too big," the source shares.
Go to egotastic.com to see the uncensored photo of Jenelle topless prior to her breast enlargement procedure.
RELATED STORIES:
Teen Mom Jenelle Evans Back In Trouble After Secret Hook Up With Her Ex
Friend Spills On Teen Mom Jenelle Evan's Horrific Self Mutilation