Jenelle Evans Threatens To Take Her Mom To Court!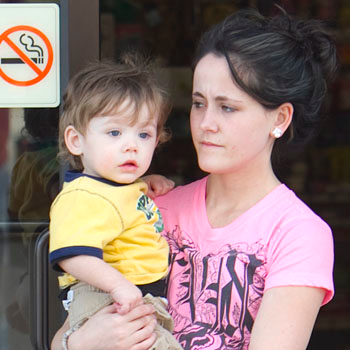 By Alexis Tereszcuk - RadarOnline.com Entertainment Editor
Teen Mom star Jenelle Evans is lashing out at her mom and threatening to take her to court to get custody of her son back!
Barbara Evans has custody of Jenelle's son Jace, 3, but over the weekend Jenelle said she refused to communicate with her about a surgery the little boy had and limiting the time she spends with him.
"I'm so upset with my mom," Jenelle wrote on her website. "Everyone always claims I don't try hard enough when it comes to me spending time with Jace, you're wrong! I just called her this morning 8 times before she actually answered and she said that Jace had a surgery yesterday and I can't spend time with him again until FRIDAY. Like what the f*ck?! He had a surgery and you couldn't even tell me so if something went wrong during the surgery I wouldn't be there?! Thanks a lot."
Article continues below advertisement
Jenelle herself spent time over the weekend in the hospital and said that her mother didn't even return her phone calls. She also says at age 60, her mother's health is failing and if her osteoporosis gets worse she worries that she might be too sick to take care of Jace.
"Why can't she just give custody back to me?!" Jenelle rails on her blog and then lists the reasons why she should have custody of her son again.
"I go to school, work 3 jobs online at home, took volunteer parenting classes, completed 12 months probation and was sober for 8 months of that period, AND took anger management classes. Also I've been seeing my psychiatrist regularly and taking my medication for my bi-polar disorder as prescribed. I don't know.... I'm very furious and frustrated but I guess I'll have to wait until my expungement goes through for my criminal record and then I'll be able to fight for custody."
Article continues below advertisement
She also gets involved in nude photo scandals. As RadarOnline.com previously reported, more nude photos of Evans hit the Internet last weekend, the third such set.
But Jenelle says that she is just biding her time before she takes legal action to attempt to regain custody of her son.
"As for now, this custody battle is a waiting game until I can file for a complaint against my mother and take her to court."