Kris Jenner Debuts Fake Baby North On Talk Show, Reveals How Kim Kardashian Hid Under Blankets To Get To Hospital For Birth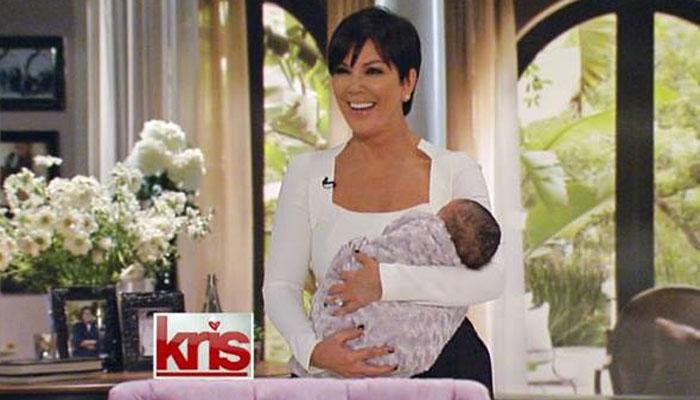 Kris Jenner debuted her new talk show on FOX on Monday with the type of self-promotion we've come to expect from the matriarch of reality television's first family.
With daughters Kourtney and Khloe in the audience, the 57-year-old momager-turned-host fooled the world -- for a few seconds, at least -- as she brought out a baby from behind-the-stage.
The oohs and aahs ensued, but as it turned out, the infant was NOT baby North West: The tiny tot belonged to Jenner's stylist.
Article continues below advertisement
"No, no, no, I couldn't do that to Kim -- that would be kidnapping," a grinning Jenner told the studio audience. "I get asked all the time, when are you going to show the baby? Kim just has to do that on her own time. Let her have privacy for a little bit. When she comes out, she comes out."
Still, Jenner wasted little time shedding new details on the birth of her granddaughter, revealing a "Bonnie and Clyde" experience with pregnant Kim, 32, in order to get her to hospital to deliver her first child last month.
"It was actually Father's Day weekend and I was doing live television, Good Day LA," Jenner said within minutes of the show's opening.
"I hate opening up my Blackberry after that because you never know what you are going to get. I get an email from Kim, 'Urgent!'
"The backstory is that for Father's Day she had planned this big surprise for Kanye. He is obsessed with Steve Jobs and Steve Wozniak from Apple. Kim wanted to get a piece of memorabilia -- an Apple mouse, or something like that -- that she could get autographed.
Article continues below advertisement
"She started researching and could not find anything. So, she just ended up emailing Steve Wozniak, Woz. She says, 'Can I get something for Kanye?' He says, 'Yes, I would love that, let's hook it up and I will actually drive it to you.'
"They have this huge, fabulous surprise for Kanye for Father's Day. He has no idea he is going to meet one of his idols, get some signed stuff and have this amazing brunch.
"Cut to, she emails me, 'Call me urgent!' That is never good. When Kim says urgent, that is never goodŠ She says, 'I have to have the baby today. Emergency. Get here fast.'"
Jenner recounted pleading with the limousine driver -- "a complete stranger" -- to drive her to Kim's house.
"In front of Kim's house there are about 300 paparazzi that live outside," she said. "They are all on baby watch, because, who knows? The guy take a detour and we get to Kim's house. The moment I turned the corner, they're all freaking out.
Article continues below advertisement
"I get inside the gates, get inside, get Kim, get her ready to go. We are packing her bags and getting them all into the trunk. This is crazy."
Jenner said the family had previously orchestrated an "elaborate plan" -- complete with "security, the right room, the car, a decoy car and this and that" -- to usher Kim to hospital.
But their best laid plans were ruined.
She said, "On the way, I called my girlfriend, Farnaz. 'We need a decoy car. We need a getaway car. Meet us at this hotel.' When we get to the hotel, we were going to switch cars. We started to line the whole thing up.
MORE ON:
Keeping Up With the Kardashians
"We go to the hotel, the whole way down to the hotel, she Kim is under the blankets and I hear tap, tap, tap. I go, 'Who are you emailing under the blanket when this is an emergency?'
"She goes, 'I have got to call Steve Wozniak. He keeps emailing. He's here. He just got here and I don't know what to do, I don't know what to tell him.'
"I said, 'Could you stop with Woz.' I said, 'This is going to wait. We will deal with that tomorrow. It's all going to be ok. Let's just get to the hospital.'"
Article continues below advertisement
Everything was going perfectly, said Jenner. When they arrived at the hotel, friend Farnaz had the getaway car in position.
"It is smooth as silk and then all of a sudden, I am about to get out of the car and who do you think is standing at the hotel? Steve Wozniak," she said.
"Kim was about to pop up (form under the blanket) and I said, 'Kim you are never going to believe who is here. Steve Wozniak and his wife Janet are standing right there. She goes, 'Oh my god, oh my god!'
"She hadn't responded to him and didn't know he was staying at that hotel. I said, 'Kim you are going to have to pop up and go to SteveŠ just go and say hi.'
"She gets out of the car like nothing has happened. 'Hi Steve, how are you? Thanks for coming.' She is acting like nothing has happened; she is acting like she is at a cocktail party. I am frantic. Farnaz is ready with the getaway car. I kept walking over and saying, 'We have a meeting.'
Article continues below advertisement
"We finally walked over to the car and Kim slides in, blankets, blankets, blankets. Purse, purse, purse. I get in the front and go, 'Let's go.'"
Then, Kim, from under the blankets, told her mom: "Mom, hit the floor!"
"I go, 'What?' 'Lay down on the floor,' she said. I go, 'We're in a Mini Coupe, I have a dress on and no underwear. How am I going to get on the floor?' It was a little, tiny car," said Jenner.
"I did not ask questions. I hit the floor. This is our life!"
When the trio got to the hospital, Jenner called security and they were all soon parachuted into a "secret garage, down the secret alley, where the wheelchair is waiting."
She recalled, "Up the private elevator, down through the kitchen, up down, up down. We ended up in a room -- and then we had a baby!"
Two days later, on Father's Day, Jenner laughed as she said: "Guess who was in the room when I got to the hospital? Steve Wozniak!"
Interesting side note: Jenner dismissed two rumors about Kim and Kanye, 36, during the first episode of Kris.
She denied "locking" Kim inside a home until the first baby photos were released and said the couple will not be getting married in Egypt, as had been reported.