Kris Jenner Faces Marriage Crisis After Bruce Catches Her With Ex-Lover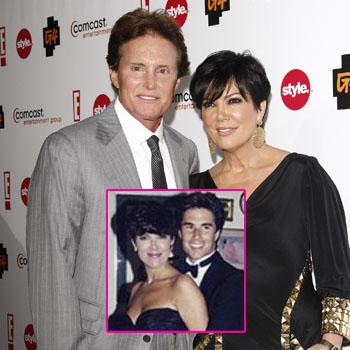 Currently welcoming the birth of their granddaughter, Penelope Scotland, Kris and Bruce Jenner have a lot to celebrate, but there's a relationship scandal that could rip the family apart.
The couple's 21-year marriage is on the verge of collapse after Bruce caught the momager earlier this year cozying up to boy toy Todd Waterman, whom she had an affair with while she was married to the late Robert Kardashian, and old wounds are about to be reopened, the National Enquirer reports exclusively in its new issues
Article continues below advertisement
The 62-year-old Olympic champion was devastated when he walked in on his wife composing an email to her ex, but what he doesn't know is that she went as far as meeting up with him for a romantic rendezvous, and you can see a photo of Kris and Todd in a clandestine hug in the Enquirer's new issue.
"Kris told no one, but she did go out with Todd, and it was an electrifying date," said an insider. "Kris walked out of the restaurant where they'd met looking like the cat that ate the canary. It's so obvious that she still carries a torch for him."
After being busted signing an "xoxo" to Waterman, Kris made lame excuses claiming she needed final closure, but her hubby wasn't buying it and stormed out.
"He believes, 'Once a cheater, always a cheater.' I don't think he can believe that Kris has had the audacity to keep it up with Todd when their marriage is on the line," explained the friend.
"Cheating is a deal breaker for him, so their marriage is teetering on the edge."
Article continues below advertisement
Bruce is still reeling from the pain of his wife's tell-all memoir, Kris Jenner…And All Things Kardashian, in which she gives intimate details of her relationship with the former pro soccer player who is 10 years her junior and described the "wild crazy sex" that they had.
In a recent episode of the family's hit E! reality program Keeping Up with the Kardashians, Kris bumped into Todd, now a Hollywood animator, at a Los Angeles-area tennis club, where she gave him a lengthy hug and swapped contact information.
"Bruce would feel totally betrayed if he actually knew the length and breadth of Kris and Todd's current relationship. They had continued to feverishly e-mail each other, flirt and text," the insider divulged.
"I think Kris is covering up a lot of secrets and lies… Bruce's feelings are still raw. I don't think he can take much more, and will be wondering what else Kris is up to behind his back."
The full story is in the new issue of the National Enquirer -- on newsstands Friday.