Kris Jenner Refuses Husband Bruce's Plea They Go To Marriage Counseling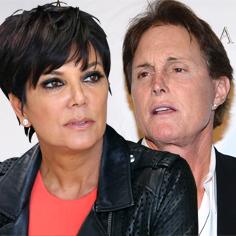 Kris Jenner has refused her husband Bruce Jenner's plea that the couple go to marriage counseling, and that's what prompted the Olympic athlete to move out of the family mansion, RadarOnline.com is exclusively reporting.
Bruce, "wanted to go to marriage counseling with Kris several months ago. The marriage has been in trouble for a very long time, and had only continued to go downhill. Bruce and Kris have become more like roommates, and there is just no romance in the relationship," a source close to the couple tells Radar.
Article continues below advertisement
"Kris refused to go because she didn't think anything was wrong and was happy with the status quo. She felt that it would just be a waste of time. This was one of the main reasons why Bruce got his own rental house in Malibu. If she didn't want to work at the relationship, why should Bruce," the source says.
The Kardashian-Jenner patriarch has moved to his Malibu, Calif., beach house for the rest of the summer after new parents Kim Kardashian and Kanye West moved into the family's mansion in Calabasas with their newborn.
Bruce "decided to ditch the family home because he was constantly being told to be quiet because of baby Nori," the source says.
The momager revealed on Access Hollywood Live on Friday that Jenner did have his own house, but insisted her husband of 22 years still came home to her each night.
"We got a place out at the beach for him to get away," Kris said.
The Kardashian-Jenner PR camp went into overdrive on Friday, trying to spin the blockbuster news that Bruce had moved out. Media reports circulated that the beach house was actually for Kris and Bruce's teenage daughters, Kendall and Kylie. According to the report, because Kris is busy with her upcoming talk show, Bruce volunteered to supervise the girls.
Our source scoffs at the report, and reveals, "Kendall and Kylie have hardly been spending any time at the Malibu beach house with Bruce. They don't have any clothes there, and haven't spent the night. Bruce would love to have them, but they are busy with their own lives and friends now. Kris hasn't been invited to spend the night either!"