Exclusive
Kris Jenner Slams Big-Mouthed Sister Karen: She 'Has Been Dealing With Demons For Years'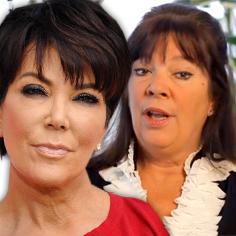 Kris Jenner is not going to take it any more.
After silently standing by while her sister, Karen Houghton, blabbed about her darkest secrets to various media outlets, Jenner has spoken out to RadarOnline.com to tell her side of the story -- once and for all.
"Unfortunately, my sister has been dealing with demons for years," Jenner told RadarOnline.com exclusively on Monday.
Despite Houghton's claims to know everything about Jenner's life and how she's dealing with her split from estranged husband Bruce Jenner, the Keeping Up with the Kardashians star reveals: "I am not in touch with her. But I wish her the very best."
Article continues below advertisement
In fact, an insider claims that the two sisters haven't even seen each other for nearly a year, besides speaking briefly at Kim Kardashian's baby shower for daughter North West.
Says the source, "The reality is that Karen and Kris have not had a discussion about Kris' private life for 28 years."
"She has no knowledge of Kris' family life or her husband," the source adds. "Except what she sees on the show. And she has used this to create a fanciful tale of what is going on inside the family."
So why speak out? The insider claims, "Karen has a tendency to be angry and jealous and perhaps this was her motivation to go on the media tour."
But whatever her motives, it's driven a wedge between the already distant sisters.
"Kris feels horrible that her sister felt the need to talk to the media," the source tells Radar. "It's disappointing that she has sold her out."
"The irony is that Kris has always been there to help Karen financially. It shows just how crazy this situation is. Kris even sent her a brand-new Mercedes, then Karen goes and blabs to the media."
Article continues below advertisement
"There is absolutely nobody in Jenner's life and there was not a third person involved in the separation."