Exclusive
Kardashians Keeping Secrets? Family Refuses To Turn Over Mysterious Bag To The Goldman Family, Murder Victim's Sister Claims — Despite O.J. Simpson Attorney Robert's Instructions That It Be Done After His Death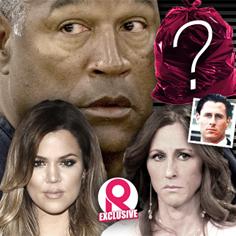 Did Robert Kardashian Sr. die with a guilty conscience? Kim Kardashian's father, and accused killer O.J. Simpson's confidante, wanted a bag in his possession given to murder victim Ron Goldman's family after his death, Goldman's sister Kim claims, but his future reality star heirs still haven't turned over the mysterious item.
Around 2007, four years after Robert's death from esophageal cancer, "We were notified by either a lawyer or someone from the Kardashian family that they had come across this bag among Robert Kardashian's things," Goldman told RadarOnline.com. "Robert wanted the bag to be given to me after his death. This wasn't the Louis Vuitton garment bag that Robert took from O.J. Simpson's house the day after the murders."
Article continues below advertisement
Goldman claims she arranged a drop off for the piece, but "at the last minute, we were told it wouldn't be happening."
"I have no idea what was in the bag," she continued. "As for why they didn't want us to have it, someone must have told them it wasn't the best decision to give it to us. I will never know what was in the bag."
Another source revealed it was "Khloe Kardashian that initially reached out to representatives from the Goldman family about turning over the bag."
Simpson was charged in the June 1994 murders of his ex-wife, Nicole Brown, then 35, and her friend, Ron, 25, but acquitted after what the press called the "Trial of the Century."
The Goldman and Brown families sued Simpson in civil court, and won $33.5 million in damages (but they've received less than 1 percent of the money so far).
As RadarOnline.com previously reported shortly after the June 1994 murders, attorney Kardashian was spotted by television cameras taking a Louis Vuitton garment bag out of Simpson's Rockingham mansion — which some trial watchers believed it could have contained a Simpson murder weapon, and other physical evidence.
Article continues below advertisement
"I have always wondered what was in his O.J. Simpson's luggage bag, and if it did indeed hold the murder weapon that was used to kill my brother and Nicole," Goldman said. "Robert Kardashian certainly had motive to help him get rid of the evidence."
Goldman refuses to say O.J.'s name, and only refers to him as "the killer" in her new book.
At the time of the infamous murders, Robert didn't have an active law license, but after Simpson was charged in the case, he quickly applied to have it reactivated, which was a calculated move according to Goldman. Simpson also stayed with Kardashian in the days after the grizzly murders, before he was formally arrested.
"It was a strategic move by the killer's defense team to have Robert Kardashian get his law license, so he couldn't be called to testify against him," Goldman said. "God only knows what Robert knew. He was absolutely pulled into the case to be a part of the team for a reason. I will never know what Robert knew and what he did to help his friend get acquitted. Robert Kardashian was a very smart man and I absolutely think it's possible that he hid or destroyed key evidence including the murder weapon."
However, Goldman doesn't harbor any hatred towards the Kardashian family, despite their capitalizing off of their father's name.
"I don't feel any ill will towards the Kardashians or any of his children," Goldman said. "It's America, and good for them for becoming so successful. It's not the kids' fault that their dad was best friends with a killer."