Exclusive
Kim Kardashian's Dad Robert Could Have 'Absolutely Gotten Rid Of Murder Weapon' To Aid O.J. Simpson, Ron Goldman's Sister Says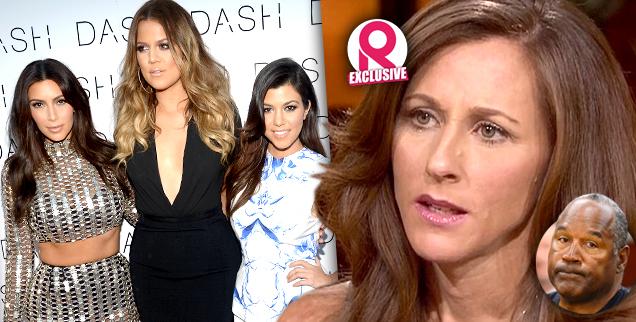 The June 1994 day after the murders of Nicole Brown Simpson and her friend Ron Goldman, Kim Kardashian's father (and confidante of accused killer O.J. Simpson) Robert Kardashian Sr. was spotted by television cameras taking a Louis Vuitton garment bag out of his Rockingham mansion — which some trial watchers believed it could have contained a Simpson murder weapon, and other physical evidence.
In an exclusive interview with RadarOnline.com, Ron Goldman's sister, Kim, said she believes the Kardashian family patriarch "absolutely could have gotten rid of the murder weapon.
Article continues below advertisement
"I have always wondered what was in his O.J. Simpson's luggage bag, and if it did indeed hold the murder weapon that was used to kill my brother and Nicole. Robert Kardashian certainly had motive to help him get rid of the evidence."
Simpson was charged in the June 1994 murders of his ex-wife, Nicole Brown, then 35, and her friend, Ron, 25, but acquitted after what the press called the "Trial of the Century."
The Goldman and Brown families sued Simpson in civil court, and won $33.5 million in damages (but they've received less than 1 percent of the money so far).
Kim Goldman refuses to say O.J.'s name, and only refers to him as "the killer" in her new book.
At the time of the infamous murders, Robert Kardashian didn't have an active law license, but after O.J. was charged in the case, he quickly applied to have it reactivated, which was a calculated move according to Kim Goldman. Simpson also stayed with Kardashian in the days after the grizzly murders, before he was formally arrested.
Article continues below advertisement
"It was a strategic move by the killer's defense team to have Robert Kardashian get his law license, so he couldn't be called to testify against him," Goldman told us. "God only knows what Robert knew. He was absolutely pulled into the case to be a part of the team for a reason. I will never know what Robert knew and what he did to help his friend get acquitted.
"Robert Kardashian was a very smart man and I absolutely think it's possible that he hid or destroyed key evidence including the murder weapon."
Kim Kardashian's dad died in 2003 of esophageal cancer, only weeks after being diagnosed.
During the trial, prosecutors had hoped to call Kardashian to testify about the contents of the bulging Louis Vuitton garment bag, and when it was formally entered into evidence, it was empty. However, Judge Lance Ito ruled that Kardashian couldn't be called to testify because of attorney-client privilege.
However, Kim Goldman doesn't harbor any hatred towards the Kardashian family, despite capitalizing off of their father's name.
Article continues below advertisement
"I don't feel any ill will towards the Kardashians or any of his children," Goldman said. "It's America, and good for them for becoming so successful. It's not the kids fault that their dad was best friends with a killer."
Kim Goldman said her decision to write the book was "out of love and necessary for me at this point in my life.
"I have written several letters to the killer, hoping to visit him in prison. He never responded, but just to see him in his prison suit, behind glass, would give me some closure. In my mind, he is always this very large, looming figure. Just writing the letters has been very helpful for me."
As the 20th anniversary of Ron's murder looms on June 12, Kim would like "people to remember him for his incredible laugh.
"It's one of the things I miss most about him, that laugh. I also Ron to be remembered for his bravery as he tried in those two minutes to defend his friend, and save her life. His life can best be summed up by the final two minutes of his life, Ron was so brave, and tried to save Nicole."
Simpson remains in custody in Nevada for a robbery conviction and sentenced to 33 years in prison, with the possibility of parole in 2015, at the earliest.