Exclusive
O.J. Simpson's Feud With Family Of Ron Goldman Ignites Nearly 20 Years After His Murder: Manager Claims O.J. 'Despises The Goldmans … He Says, 'They're Mad At Me? I Should Be Mad At Them!'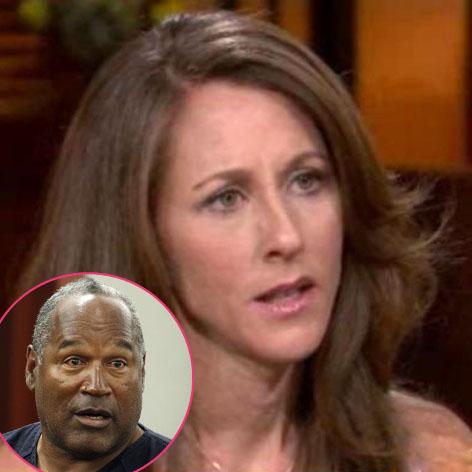 Even though O.J. Simpson is currently behind bars, his feud with the family of Ron Goldman — killed along with his ex-wife Nicole Brown Simpson in June 1994 — continues. On the heels of a new tell-all about the case from Ron's sister, Kim, Simpsons' manager is speaking out exclusively to RadarOnline.com to slam the family for "living off of O.J. Simpson" and making accusations about the convicted felon "when he can't defend himself" — 20 years after the notorious murder that changed his life forever.
Article continues below advertisement
In Kim's book, Can't Forgive, she claims she wrote Simpson a letter in an attempt to visit him at a Nevada prison after he was convicted of kidnapping and armed robbery in 2008.
Now, Simpson's manager and close friend, Norman Pardo, tells RadarOnline.com exclusively, "There were no letters to O.J. It's stupid stuff she's coming up with! She's still living off of O.J. Simpson. She knows if she did her own memoir about what she did for a living and the fact that her brother was killed and she got to go to court for a while, it would be the most boring book on the planet."
"She's put stuff in the book when O.J. can't even defend himself!" he complains. "She's gonna say whatever. And he has nothing to do with her whatsoever. He's never spoken to her or anything. It's sad that she'd stoop so low."
And Pardo it's not the first time that it's happened. "Everybody sells O.J.," Pardo says. "He's told me, 'I get pimped more than any man in America! Everybody pimps me.'"
"And he's right, he is pimped more than anyone," Pardo continues. "Kris Jenner had to put O.J. in her book to sell it!"
Article continues below advertisement
But out of everyone, "He despises the Goldmans," Pardo says. "All the Goldmans want is money."
The Goldmans and the family of Brown Simpson sued Simpson in civil court and won $33.5 million in damages, but claim they've gotten less than one percent of that so far.
Still, Simpson's manager insists, "O.J. says, 'They're mad at me? I should be mad at them. Look what these motherf***ers did to my life!' He doesn't think they deserve anything."
"They have an O.J. Simpson fixation right now," Pardo claims. "Fred Goldman wants to become O.J. Simpson. He's just the wrong color. He wants his suit. He wants his watches. … They might as well just paint his face black and move on, if he wants to be O.J. Simpson that bad."
In 2007, Simpson was ordered to give Fred his Rolex as part of the settlement in the civil suit. And in 2010, Fred tried to sue Simpson for possession of the suit he wore at his murder acquittal.
"O.J. Simpson was a hero," Pardo insists. "If I had a choice between being Fred Goldman and O.J. Simpson, I'd want to be O.J. Simpson too."