O.J. Simpson Planning New Life As TV Evangelist, Reveals Jailed Star's Manager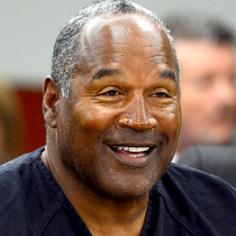 O.J. Simpson has found his spiritual side, according to his manager Norman Pardo, and is looking to parlay his fame and notoriety into a new career as a televangelist, RadarOnline.com has learned.
"O.J. is very religious now, and he's been counseling other inmates with Bible studies for months," Pardo told the ENQUIRER. "When I talk to him on the phone, all he wants to discuss is religion.
"He's obsessed!"
Article continues below advertisement
Simpson's looking to model himself after televangelist Frederick Price, a source told the ENQUIRER. Simpson -- who's dubbed his religious movement "Holy Safari" -- is depicted wearing white with his arms outstretched in a preliminary promotional poster for the start-up ministry. His manager said negotiations are underway for a TV deal.
At least one source close to the former Buffalo Bill, 66, is skeptical that Simpson's turn to religion is motivated by faith, as opposed to finance.
"O.J. will tell you that he wants to bring people together, but that's BS as far as I'm concerned," said an insider. "There's a lot of people sending bucket-loads of money to these TV preachers, and O.J.'s just looking to rake in millions from poor, unsuspecting Christians.
"It's a dangerous idea to think of Simpson as a self-styled prophet who can reach people all over the world."
An insider close to Simpson said that while he thinks the idea is farcical, it just might work.
Article continues below advertisement
"People have to remember that this is a man who coldheartedly slaughtered two human beings and got away with it. The idea of him being any kind of preacher is ridiculous.
"Unfortunately, he could pull it off, because he's got an ego the size of the Brooklyn Bridge and there's a sucker born every minute."
As we previously reported, Simpson, who's been incarcerated for five years, is seeking a new trial in the 2007 incident after he was granted parole on some of the charges this past summer.
The record-setting running back remains best known as the defendant in the "Trial of The Century" where he was found not guilty in the June 1994 murders of his ex-wife Nicole Simpson and her friend Ron Goldman with the help of a legal "Dream Team" that included Kim Kardashian's late father, Robert.