O.J. Simpson Trying To Sell The Knife That Killed Nicole For $5 Million, According To New Report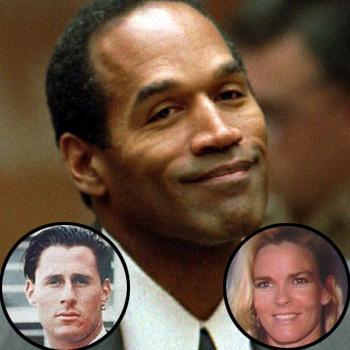 O.J. Simpson never threw away the knife that was allegedly used to kill estranged wife, Nicole Brown, and he's now trying to sell it to a collector, according to a shocking report in the new issue of the National Enquirer.
Almost two decades after the gruesome double murders that captivated the nation, the former NFL hero -- who is currently serving time for a Nevada armed robbery -- is reportedly trying to profit from his alleged cold–blooded crime by negotiating a $5 million deal, an insider told the Enquirer.
Article continues below advertisement
"O.J. wants the deal to be a well-kept secret," confided the source. "He's looking for a strictly cash deal so that the money can be deposited in offshore accounts and can't be traced directly to him."
It was long speculated that Simpson either dumped the knife in a trash can after allegedly committing the June 1994 killings before jumping on a flight to Chicago, or took it with him and disposed of it in a park, but the source told the Enquirer that both rumors were "red herrings."
The missing knife is one of the many reasons why O.J. was granted his groundbreaking acquittal in October 1995, despite many still believing that he massacred Nicole and her friend, Ron Goldman.
Even though Simpson won't be able to spend the money until he is a free man again in 2017, the source claims he is motivated by revenge as well as greed.
"It's not just about the money. O.J. will get a sick satisfaction from putting one over on the cops and Ron Goldman's family. He'd love to think he's outsmarted them," they told the Enquirer.
Article continues below advertisement
As RadarOnline.com previously reported, this isn't the first time Simpson has tried to make a buck off of his ex-wife's brutal murder -- in 2006, he published a book called If I Did It, which was a macabre, hypothetical walk through of the murders he claimed he didn't commit.
The Smoking Gun reported that Simpson secretly stood to make around a million dollars in profit from the book, however Ron Goldman's father stepped in and sued the disgraced sports star and the publishing company, Harper Collins.