FBI Agents Traveling To Peru To Examine Joran Van Der Sloot's Laptop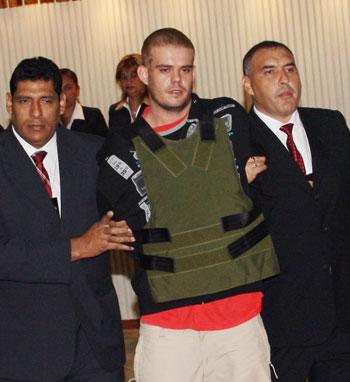 FBI agents are heading down to Peru to study Joran van der Sloot's laptop to search for new clues to solidly connect him to the 2005 murder of Natalee Holloway, RadarOnline.com has learned.
Currently in a Peruvian jail, accused of the murder of 21-year-old Stephany Flores, van der Sloot is still the prime suspect in the Holloway case, in which he was arrested for twice but never charged.
WORLD EXCLUSIVE PHOTOS From Van Der Sloot Crime Scene & More
Article continues below advertisement
According to Lima court documents, Federal Investigators now plan to meet with two agents of the Peruvian National Police High Technology Crime Division at the Peruvian National Police Headquarters in Lima, CNN.com reported on Thursday.
During the meeting the agents will have access to Joran's hard drive and conduct forensic examinations of it to search for any connection to the killing of the Alabama teen.
MORE ON:
Joran Van der Sloot
Van der Sloot's attorney, Maximo Altez Navarro, and a representative of the Flores family are expected to be present.
RadarOnline.com exclusively reported on Wednesday that Navarro is confident that he will win a temporary insanity plea in the complex Flores murder case.
He revealed his client will plead guilty to killing 21-year-old Stephany Flores on May 30, 2010 but will use the "violent emotion" defense and argue temporary insanity.