O.J. Simpson's Attorney Tampered With Famous Glove Says Former Prosecutor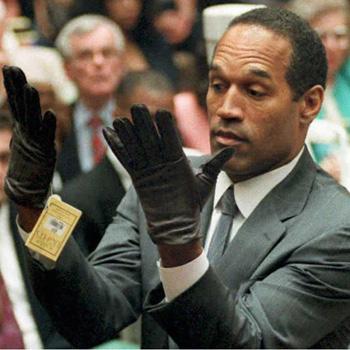 Seventeen years after he failed to convict O.J. Simpson of murder, prosecutor Christopher Darden claims he knows why. He's now insisting that the head of Simpson's dream team of lawyers, the late Johnnie Cochran, tampered with the glove found at the crime scene.
One of the defining moments of the "trial of the century" was Darden presenting the glove as evidence and telling Simpson to try it on.
Article continues below advertisement
The former football great dramatically struggled with the glove but couldn't pull it on.
"If it doesn't fit, you must acquit," Cochran famously said during his closing argument.
Darden made his accusation during a panel discussion about the trial at Pace Law School in New York. "I think Johnnie tore the lining. There were some additional tears in the lining so that O.J.'s fingers couldn't go all the way up into the glove."
And in a follow-up interview the next day, Darden added, "A bailiff told me the defense had it during the lunch hour. It's been my suspicion for a long time that the lining has been manipulated."
Darden's accusation came in response to a comment made by fellow panelist, Alan Derschowitz, another member of Simpson's team. He called Darden's decision to have Simpson try on the glove for the first time before the jury "the most stupid thing" a prosecutor could have done, a sentiment echoed by many legal analysts at the time.
MORE ON:
Celebrity Justice
Article continues below advertisement
"Having made the greatest legal blunder of the 20th Century," Dershowitz added, "he's trying to blame it on the dead man."
Simpson was acquitted of murdering his ex-wife Nicole Brown and her friend Ron Goldman. The families of both victims later sued Simpson and in 1997 he was found liable for their deaths and ordered to pay $33.5 million.
Only a few thousand dollars of that was ever recovered.
Simpson is currently serving up to 33 years in prison for a 2007 armed robbery in which he claimed he was trying to recover his own sports memorabilia.