Bank Foreclosing On Jailed O.J. Simpson's House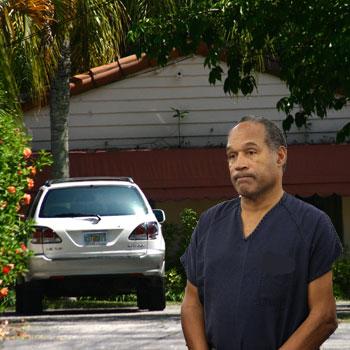 JP Morgan Chase has started the foreclosure process against O.J. Simpson's Florida home, but there's just one problem. According to court records, the bank's process server has made repeated attempts to serve the former football great and actor at the house!
Note to Chase: O.J. Simpson is in prison! Try serving him at 1200 Prison Rd., Lovelock, Nevada. He's been there since 2008!
After being found not guilty of murdering his ex-wife Nicole Brown and her friend Ron Goldman, Simpson was found liable for their deaths in a civil suit brought by the Brown and Goldman families.
Article continues below advertisement
In an effort to escape the $33 million judgment against him, O.J. bought a house near Miami in 2000 for $522,000, taking out a mortgage for $575,000.
Simpson was convicted on armed robbery and kidnapping charges in Nevada in 2008, and continued to make payments on the place until 2010.
With overdue principal, interest, fees and penalties, the debt is now close to $725,000!
O.J.'s lawyers are fighting the foreclosure. They've filed a response calling JP Morgan Chase's foreclosure filing "vague."
MORE ON:
hollywood happenings