Anniversary Of O.J. Simpson's Acquittal: Seven Things About 'The Trial Of The Century'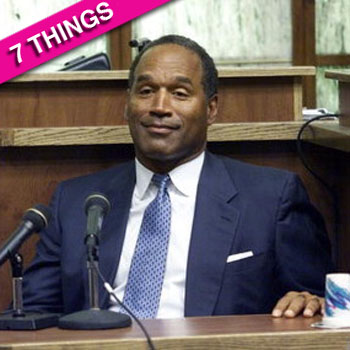 Article continues below advertisement
In commemoration of the case that divided a country and became one of the most watched events in television history as 150 million people tuned in for the verdict, RadarOnline.com has compiled the essential seven things that you may not know about O.J. Simpson.
7. Before he became infamous for the alleged murders, San Francisco native Orenthal James Simpson was a clean-cut college kid playing football for the University of Southern California. During his two years as a running back at USC, he caught the attention of the country for the first time when his 64-yard touchdown run in the fourth quarter of a historic match-up against UCLA tied the game and became the biggest play in what went on to be known as the greatest football game of the 20th century.
After rushing for 1,709 yards and scoring 22 touchdowns in 1968, O.J. was presented with the Heisman Trophy and still holds the record for the largest margin of votes, beating out his closest competition by 1,750 points.
6. O.J. was plucked by the Buffalo Bills with their first pick in the AFL-NFL Common draft and survived a rough welcome into professional football as the team struggled for the first few years with losing seasons. By the early 1970s things were looking up for both the team and Simpson, who won the rushing title four times in a row and broke the record on Thanksgiving Day 1976 against the Detroit Lions.
Article continues below advertisement
The RB - nicknamed "The Juice" as a play on words from O.J. or Orange Juice - ended his illustrious football career back in his hometown of San Francisco, where he played for the 49ers for two seasons.
5. Once his life on the field was over, O.J. looked to the bright lights of Hollywood and launched a successful acting career with roles in Roots, The Towering Inferno, The Cassandra Crossing, and most famously, The Naked Gun spoof trilogy, as Leslie Nielsen's sidekick, Officer Nordberg, who always got himself into painful situations. Along with flexing his comedic talents on the big screen, Simpson showed off his hosting talents and his football know-how as a commentator on Monday Night Football and NFL On NBC.
4. Simpson was divorced from his first wife Marguerite L. Whitley (with whom he had three children) in 1977 following the tragic death of their two-year-old son Aaren, who drowned in the family pool. O.J.'s next marriage to Nicole Brown Simpson would also end in notoriously tragic circumstances. The couple tied the knot in February 1985 and had two children, Sydney and Justin, but were plagued by violent drama early on and the former football player was charged with domestic violence in 1989 after he and Brown had separated. They divorced in 1992.
Article continues below advertisement
3. The NFL star's life took a dramatic and dark downward spiral live on TV on June 17, 1994, just days after the bodies of Nicole and her friend, Ron Goldman, were discovered violently stabbed multiple times outside her Los Angeles home.
Simpson's lawyers persuaded the LAPD to allow the prime suspect time to turn himself in, but instead Simpson sent a mysterious potential suicide note saying "I had nothing to do with Nicole's murder ... Don't feel sorry for me. I've had a great life," and hit the road in what has become the most famous car chase in the city's history, during which his friend A.C. Cowling told the cops that O.J. was on the back seat with a gun to his head.
Thousands of spectators packed the overpasses of the chase route that was watched by millions of viewers live on all the major TV networks, and the drama finally ended at Simpson's Brentwood home with his son, Jason, running out to meet him. Police found "$8,000 in cash, a change of clothing, a loaded .357 Magnum, a passport, family pictures, and a fake goatee and mustache" in his now infamous white Bronco.
Article continues below advertisement
2. Simpson pleaded not guilty to murder on June 20, and opening statements in "the most publicized criminal trial in American history" began in January 1995. The multi-million dollar wrangling between OJ.'s high profile lawyers – who included Kim Kardashian's father Robert Kardashian, F. Lee Bailey, Johnnie Cochran and Robert Shapiro – and prosecutors Marcia Clarke and Christopher Darden have gone down in legal folklore and featured the now notorious black glove (sparking the line: "If it doesn't fit, you must acquit"), DNA evidence, conflicting eye witness reports, racial accusations, and an infamous appearance on the stand by Kato Kaelin.
Before the "not guilty" verdict was read, President Bill Clinton was briefed on security measures if rioting occurred nationwide and an estimated 150 million people around the world stopped what they were doing to watch, costing companies an estimated $480 million in lost productivity and causing the New York Stock Exchange to lose 41 percent in trading volume.
In the wake of O.J.'s release, several jury members said they thought he probably did commit the murders but the prosecution didn't prove their case. Countless biographies and memoirs have since dissected the case and attempted to retry the murder suspect in theory.
Article continues below advertisement
Ron Goldman's family and Nicole's estate later brought a civil lawsuit against O.J., which culminated in Brown and Simpson's children, Sydney and Justin, being awarded $12.6 million from their father as recipients of their mother's estate. The victims' families were awarded $33.5 million in compensatory and punitive damages.
1. Despite after what many believe was a gross evasion of justice, Simpson didn't value his freedom enough, and in September 2007 he was part of an armed robbery at a Las Vegas hotel where various sports memorabilia was stolen. On October 3, 2008 – exactly 13 years after his initial acquittal – O.J. was found guilty of all 10 charges and sentenced to 33 years in prison with the eligibility of parole after nine.
Now 65, he is currently serving time at the Lovelock Correctional Center in Nevada.
Even behind bars, Simpson can't escape speculation over his part in Nicole and Ron's deaths. In his groundbreaking book, O.J. Is Innocent And I Can Prove It, private investigator William Dear argues that his son with Whitley, Jason Simpson, committed the crimes and that O.J didn't arrive at the murder scene until after the vicious stabbings.