Yes, No, Maybe So: Kato Kaelin Flip Flops On O.J. 'Did It' Murder Statement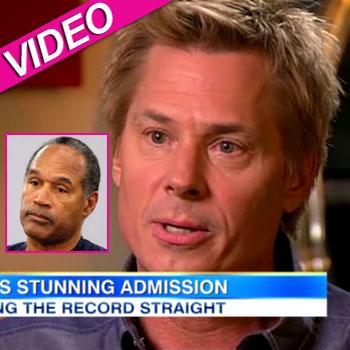 Kato Kaelin has denied that he ever told The New York Post that he knows for certain that O.J. Simpson brutally murdered his ex-wife Nicole and waiter Ron Goldman in June, 1994; instead Kaelin says he merely believes the former football star turned actor is guilty for shocking crime that gripped the nation.
"These are words that were never used in my vernacular," Kaelin told Good Morning America Friday, a day after the Post article quoted him as saying, "The statute of limitations has now passed...so I can now say...yes, he did it."
Article continues below advertisement
Kaelin told GMA he thinks Simpson is guilty, but says he knows nothing more than the rest of the country.
"You know you have intuition, gut feelings that was what it was for me, I couldn't prove it, it was my gut feeling," he said.
Kato, a tabloid mainstay in the mid-90s, told GMA he's "not the reason O.J. Simpson is innocent from the first trial" after testifying in the "The Trial of The Century".
"I'm not at all, there's prosecutors, there's witnesses. I said I think he's guilty, and I said it many, many times," he said. "They cannot prove it. The jury said he's innocent."
In the Post report, Kaelin was quoted as saying he didn't admit his true feelings at the time because he was "too scared" and "terrified."
In an appearance on The View in 2011, Kaelin, 53, said he "thought Simpson was guilty," adding he's had "no contact" with the former Buffalo Bills running back since the killings, aside from a one-off brush-by at a restaurant. He said that "karma just came around" in regards to O.J.'s 2007 conviction in Las Vegas.
Article continues below advertisement