Amanda Knox's Ex Describes Going To Murder Trial: Worried Amanda Would Put Her Foot In Her Mouth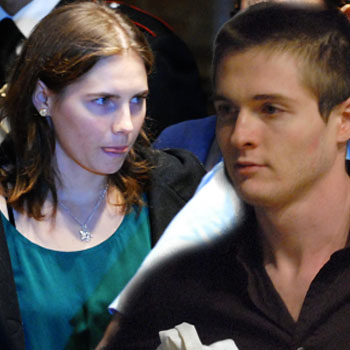 By Amber Goodhand - RadarOnline.com News Editor
The world watched in anticipation as Amanda Knox and boyfriend Raffaele Sollecito went to trial in Italy for the murder of Meredith Kercher and in his new tell-all book, Raffaele reveals their legal team was terrified of how Amanda would perform on the stand.
"We had to worry about Amanda taking the stand. Her lawyers decided that the best way to refute the stories about her wayward personality was to have the court take a good, hard look at her up close," Raffaele wrote in Honor Bound: My Journey To Hell And Back With Amanda Knox.
Article continues below advertisement
"But my lawyers were deeply concerned she would put her foot in her mouth. If she deviated even one iota from the version of events we now broadly agreed on, it could mean a life sentence for both of us."
And even while on trial, Raffaele says he and Amanda were in constant contact while imprisoned, sending letters, books and music to each other.
"Not only did we smile at each other in court, we sent each other music and magazines and books, which the prison authorities permitted as long as they were all paid for, and exchanged letters," Raffaele says.
"Amanda wrote to me about all sorts of mundane things, everything from the new music she was discovering to her efforts to be better at 'girly' things and turn out more formally in court.
"She also let me know that she had my back, just as I had hers. Io lo so che non solo sola, anche quango sono sola, she wrote in Italian at the end of one letter. I know I'm not alone, even when I'm alone. And then her familiar sign-off, I love you."
Article continues below advertisement
But as much as Raffaele and Amanda corresponded, he said phone calls were out of the question because Amanda wouldn't give her consent.
"I liked hearing from her so much and I asked permission to phone her from time to time. The prison authorities granted my request, but for the phone calls to happen, Amanda needed to give her consent too," he says.
"She never did; most likely she was listening to her lawyers a little more carefully than I was listening to mine."