Amanda Knox's Ex-Boyfriend On Odd Behavior After Roommate's Murder: 'It Was Embarrassing'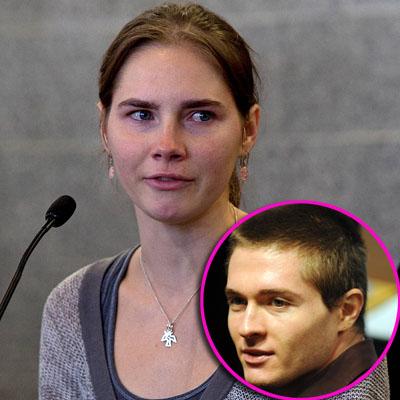 Amanda Knox's ex-boyfriend Raffaele Sollecito has released a bombshell tell-all book revealing that it wasn't just the public who thought Amanda's behavior was bizarre following the murder of her roommate in Italy -- he thought so too!
Raffaele and Amanda were both criticized for how lovey-dovey they appeared with each other during the days leading up to their arrest for the murder of Meredith Kercher and looking back Raffaele says he wishes he would have told Amanda to tone it down.
Article continues below advertisement
"Amanda cuddled up to me like a koala bear, grabbing hold of my neck with both arms and resting her body on my lap. We nuzzled, and at one point she stuck out her tongue at me as a joke. Police officers passed by regularly and glared at us. 'State composte!'one shouted. 'Behave yourselves,'" he writes in his book, Honor Bound: My Journey To Hell And Back With Amanda Knox.
"The English girls later said they were appalled by Amanda's behavior, and I admit, it made me uneasy too. This was a public place, in the middle of a murder investigation, and she was acting like a little girl. Days earlier, under very different circumstances, this quirky, unrestrained behavior had drawn me to her. But here it was embarrassing."
At the time, Raffaele says he defended her though because he was her boyfriend.
"In the moment, I didn't say anything because I didn't want to make Amanda feel worse. The whole purpose of my being there was to comfort her," he writes.
"So I defended her, even beyond the point where I felt comfortable or could be said to be looking out for my own interests."
And those infamous cartwheels Amanda was caught doing in the police station? Raffaele claims it was nothing more than Amanda showing off at what couldn't have been a worse time.
Article continues below advertisement
"She had brought some homework to the Questura (police station) but was having a hard time concentrating. She was stiff and achy from fatigue and thought she might feel better if she stretched a bit. Ivan Raffo, a young policeman from Rome, remarked on how flexible she was. And Amanda, allowing herself to be charmed in the worst of all circumstances, decided to show him what she could do," Raffaele explains in his book.
"It was a disastrous idea... Later in court, the Chief Inspector described her shock at walking by and seeing Amanda doing cartwheels and splits. In the police station. In the context of a murder investigation."
As RadarOnline.com previously reported, Raffaele made a visit after the couple's acquittal to see Amanda in Seattle earlier this year.
"After she hugged me, I realized that Amanda is the Amanda that I dated for that week," Raffaele told ABC's Katie Couric.
Article continues below advertisement