Celebs React To Amanda Knox Verdict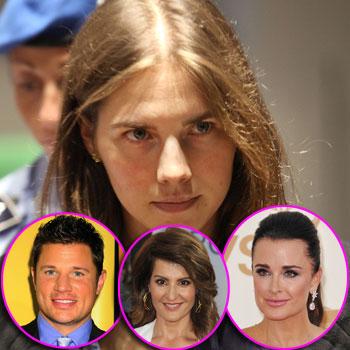 By Amber Goodhand - RadarOnline.com Reporter
Amanda Knox is free and Twitter is abuzz with celebrities voicing their point of view on the verdict.
Real Housewives of Beverly Hills star Kyle Richards immediately tweeted: "So happy Amanda Knox is free. My heart goes out to her, her family and Meredith Kercher's family."
Fellow Bravo franchise New York housewife Jill Zarin also sent condolences out to the victim's family saying: "My heart goes out to the family of Meredith Kercher... I felt proud that justice was served. 'DNA not reliable' said it all."
Article continues below advertisement
Brody Jenner seemed surprised by the outcome, writing: "Wow Amanda Knox found not guilty? I am shocked.. What do u guys think?"
"Congratulations to amanda knox and the knox family for the overturning of her guilty verdict in italy. What a relief it must be for them!!" Newlywed Nick Lachey posted.
My Big Fat Greek Wedding star Nia Vardalos couldn't hold back her tears of joy: "Shouldn't type while crying. Happy to see Amanda Knox, Raffaelle Sollecito freed. RIP Meredith Kercher."
Legal eagle Lisa Bloom agreed with the court's decision stating: "Amanda Knox is freed. Evidence against her was always weak. This is the right outcome."
Jared Leto repeated the Knox family's good news writing: "Amanda Knox and Raffaele Sollecito freed."
"Such a relief to hear Amanda Knox & Raffaele will finally be free!!" actress Melissa Joan Hart said.
And former Danity Kane singer Aubrey O'Day seems to think Amanda Knox will have a fat paycheck coming her way: "So happy for Amanda Knox! She's deserving of the million dollar interviews!"
Article continues below advertisement
No word yet from Hayden Panettiere, who played Knox in the 2011 Lifetime television movie, Amanda Knox: Murder on Trial in Italy.
RadarOnline.com brought you the news that the murder conviction of Amanda Knox was overturned by an Italian court on Monday and she is free to leave prison and return to the United States.
"We are thankful that our nightmare is over. She has suffered for a crime she did not commit," Amanda's sister, Deanna, told the media following the acquittal.
Knox and her former boyfriend Raffaele Sollecito were convicted in 2009 of the brutal slaying of Kercher. She and Amanda were both exchange students in Perugia, and shared a small house when she was found murdered in 2007.
In the initial trial in 2009, Knox was sentenced to 26 years and Sollecito to 25, following which they both mounted spirited appeals of the conviction, which under Italian law became essentially an entirely new trial.