Meredith Kercher's Family: We Need Justice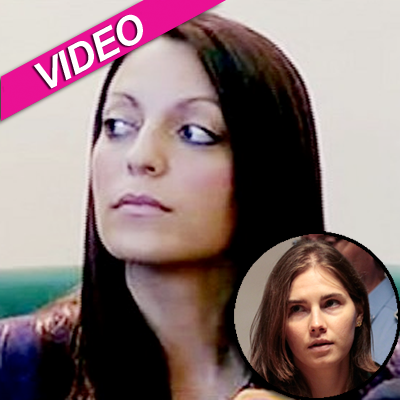 As supporters of Amanda Knox anxiously wait to hear if the appeal against her murder conviction is successful, the family of victim Meredith Kercher is speaking out.
The British student's sister, Stephanie Kercher, told a news conference in Perugia, Italy on Monday: "It is very difficult to keep her memory alive in all of this," reported The Telegraph in the U.K.
She went on to explain that forgiveness "does not come into it" at the moment. "It would be very difficult to forgive anything at this stage," said Stephanie.
Article continues below advertisement
"What everyone needs to remember is ... the brutality of what happened that night, everything that Meredith must have felt that night, everything she went through, the fear and the terror, and not knowing why.
"She doesn't deserve that, no-one deserves that."
Under the Italian legal system, the family is permitted to speak publicly once the jury is behind closed doors deliberating on the verdict.
Meredith's mother, Arline, has refused to say whether she thinks Knox killed her daughter, but said she trusts the Italian justice system.
"We need to find out what happened.. to get her justice," she said.
"You have to go by the evidence because there is nothing else. What I want, what they want doesn't come into it," she explained. "It is what the police have found, what the science has found, what the evidence is and that's all you can go on.
"It is to find out what happened to Meredith and to get some justice really."
As RadarOnline.com previously reported, Knox literally pleaded for her life earlier on Monday.
MORE ON:
Celebrity Justice
Article continues below advertisement
The American exchange student finally got her chance to address the appeals court that will decide whether to overturn her conviction in the murder of her British roommate.
"People always ask who is Amanda Knox? I am the same person I was four years ago. But I have lost a friend. I have lost my faith in Italian police. I am paying with my life for something I have not done. Four years ago I didn't know what suffering was," Knox said, delivering her statement in Italian.
"I did not kill. I did not rape. I did not steal," she added. "I was not there."
Knox and Raffaele Sollecito, her co-defendant and former boyfriend, are fighting to be acquitted of the murder of Kercher.
Prosecutors have called for the pair's sentences -- of 26 and 25 years, respectively -- to be increased to life.
The case is now in the hands of two judges and six jurors, who retired together within minutes of Knox's statement to consider their ruling.