Amanda Knox's Parents Speak Out: 'She's Not Staying Here. Period.'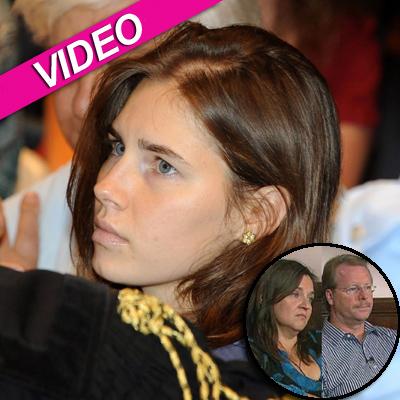 While American exchange student Amanda Knox awaits her fate in an Italian prison, her parents are speaking out on her innocence.
Amanda -- and her parents -- will find out by Monday if she will be released from prison on appeal following her controversial conviction in the murder of her British roommate Meredith Kercher.
"To use the theory of the prosecution; four people inside a very small room, one person fighting for their life, three people, I'm sure their adrenaline is running, and for Amanda and Raffaele to leave nothing in that room," Amanda's father, Curt Knox told Matt Lauer in an interview with the Today show on Friday.
Article continues below advertisement
"No hair, no blood, no saliva, nothing, no fingerprints, anything. It's physically impossible to take place. And to me, that is just pure common sense."
As RadarOnline.com previously reported, Amanda, 24, is expected to make a statement -- in Italian -- during closing arguments on Monday.
"It's actually going to be very painful to listen to," Curt said. "She's literally fighting for her life.
"Amanda really hasn't showed a lot of emotion to them. She's been fairly stoic herself. Especially when... assaulting her character, she winced at things being said about her that are just so untrue."
It was evident in the interview that Amanda's mother, Edda Mellas, feels great sympathy for her daughter and hopes that by making a statement in court, it will help to vindicate her.
"She's totally terrified by what's happening to her and the fact that this is important that she get up and try to say exactly what she's feeling and thinking," Edda said.
Article continues below advertisement
"Even though it's a good thing that she can speak, we will see the pain or hear the pain in her voice and it's like watching your child be tortured."
Both parents remain steadfast that they will stand by Amanda no matter what, and Curt stated: "She's not staying here. Period."
"Amanda will find a way to live through it. If she can do that, that's the least that we can do. We're not stopping. No parent would," Edda said.
Amanda Knox Trial Enters Home Stretch
"If you had a kid you knew was innocent, wouldn't you do everything that you could to help them? Everything. You just don't stop."
Knox was sentenced to 26 years in prison and has spent the last four years behind bars as she's fought to have her conviction overturned.